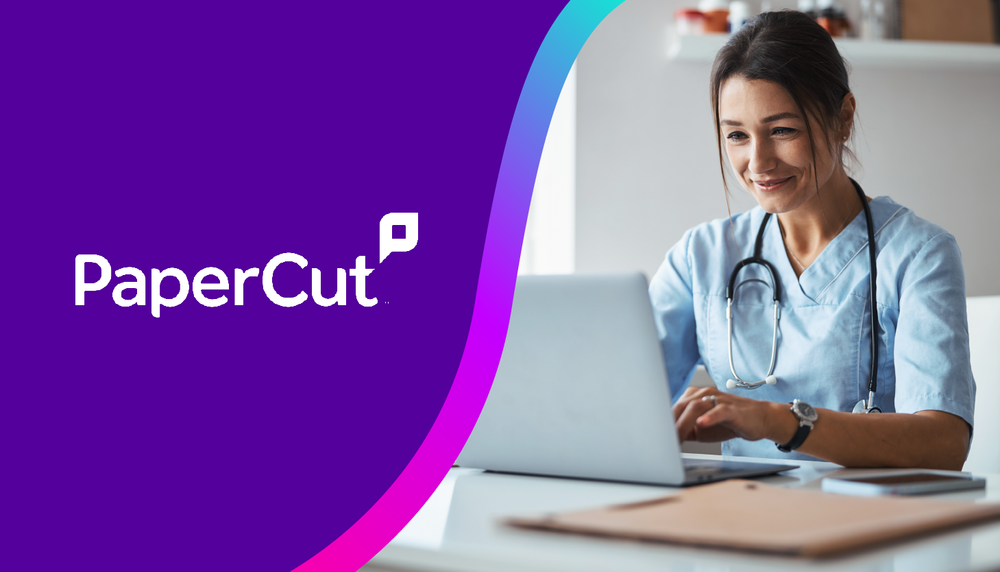 Loadbalancer.org helps NHS Trust optimize the performance of its PaperCut MF print management software and meet their cost savings target
Healthcare
Print
Updated on

•

4 mins
Working with this NHS Trust to overcome their print challenges.
Print plays an uncelebrated but fundamental part in the timely delivery of patient care. Without a printer, hospitals would struggle to check-in and discharge patients, print prescriptions, wristbands, or medical notes for busy doctors rushing from one ward to another, with no time to return to their desk to consult electronic records.
Unfortunately, many NHS Trusts are now finding that their current printing methods are slowing the process of moving people in and out of the hospital, and may not be compliant with Government regulations. And so, with hospitals under more pressure than ever to see more and more patients, load balancing can support these service level agreements by ensuring that critical print services remain always-on and secure.
This particular NHS Trust employed more than 6,000 members of staff, serving a population of more than 800,000 people. However, as opposed to being a single unit, the Trust was spread across 70-80 sites, with employees working out of multiple locations – leading to a myriad of printing challenges. Here's how Loadbalancer.org helped solve them.
The use case: the need for a highly available, centralized print management solution
In order to streamline their print management system, this NHS Trust installed PaperCut MF software at their headquarters. The solution from PaperCut integrated with their print environment and allowed them to configure things exactly as they wanted. As the Trust headquarters have an open office plan, it was important for them to have a secure printing solution – as employees didn't have individual printers at their desks. PaperCut's Find-Me printing was a great solution for this – enabling large sites to operate a common printer fleet. This solved the problem of finding the closest printer from a long list. The roaming print service instead allowed print jobs to find users based on their physical location. With this, users could simply print to a global virtual queue, before going to the most convenient multifunction device with a secure Print Release Station to discharge their print job(s).
For the Trust, transitioning to PaperCut MF meant centralizing their print solution, allowing the Trust to greatly reduce the number of printers and own a standard fleet of the same make and model for better control.
All of this ultimately required dependency on a single load balanced location. But which one?
The key requirement was that the load balancer was compatible with PaperCut MF. As Loadbalancer.org already had white papers and documentation in place that explained exactly how our products integrated effortlessly with PaperCut MF, this NHS Trust was able to deploy our load balancer straight off the bat, instead of them having to figure it out for themselves.
Furthermore, with the Trust looking at making a significant cost saving with the implementation, they needed a load balancing vendor who was able to offer a competitively priced product - one which their resellers had also recommended to them.  
The final outcome: highly available print management software at all sites
Load balancing ensured that multiple print application servers could be added which offered scalability and provided server redundancies. For example, if a single server were to be taken offline for updates, patches, or even fail for an unexpected reason, intelligent load balancing algorithms would allow other available servers to take on that printing load. This made sure uninterrupted printing services were delivered, which was of paramount importance to this NHS Trust.
For their hospital services to be available 24/7, their printing systems had to be always be up and running to facilitate patient care.
How Loadbalancer.org achieved these results: using smart, flexible, and unbreakable ADCs
Approach....
We were able to quickly identify the requirements of this NHS Trust and offer the right solution. We talked the Trust through the load balancing process and gave them an example of how it worked. We also mentioned that while load balancing PaperCut applications can sometimes be overly complicated, the Loadbalancer.org appliances integrated well with their existing PaperCut software and were therefore simple to set up.
How...
After this NHS Trust had deployed their appliances, the support team at Loadbalancer.org were able to assist the Trust in configuring it. With our detailed knowledge of load balancing and PaperCut's solutions, we were able to support them with a seamless integration. This allowed the Trust to resolve their print issues quickly and effectively.
Training...
We trained their technical teams on the end solution to ensure they were familiar with the solution in its entirety, as well as how to manage and maintain it themselves.
Why they chose us: price point, a robust solution, and healthcare and print expertise
Our extensive experience engineering healthcare applications (from Enterprise Imaging to Clinical Workflows, EHR to Interoperability solutions) allows us to work closely with existing and prospective customers to develop solutions that facilitate high availability, scalability, and zero downtime for critical healthcare applications.
We're proud to be one of the few load balancing vendors with a specialist Print team. Our strong relationships with providers such as PaperCut make us the obvious choice for those need to load balance their critical printing software.
For a full list of our credentials or to discuss this use case in more detail, contact sales@loadbalancer.org for more info.
Share this post