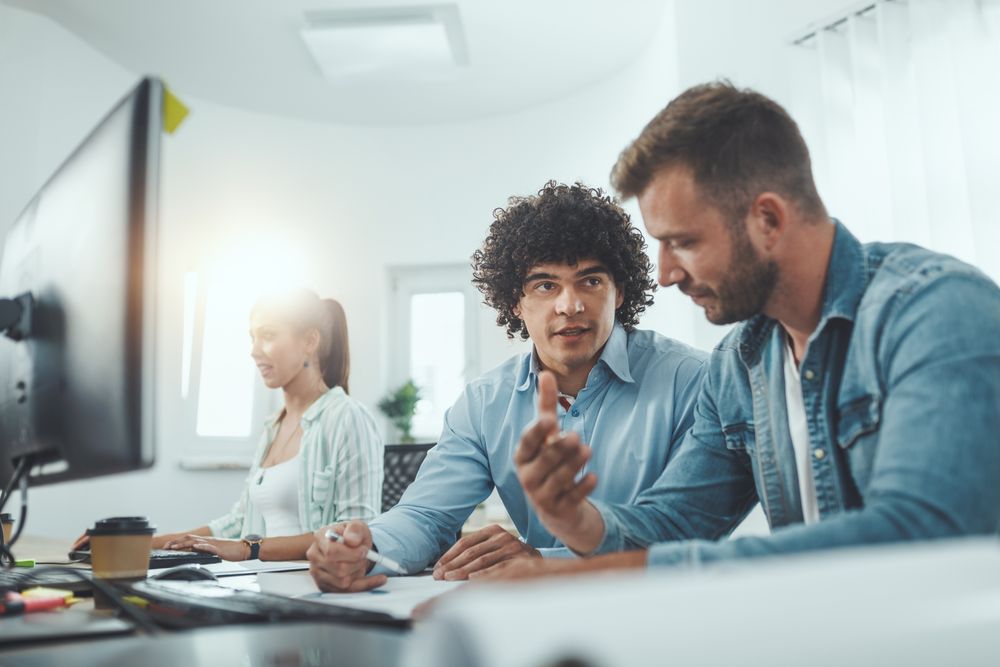 Why use Professional Services?
Performance
Published on

•

5 mins
Last updated
First of all, I hear you ask, what on earth does "Professional Services" actually mean?! It's just jargon, right?
Depending on who you talk to, it can mean many things, so I'll wade in and give my 2 cents on what I believe it is (or should be)!
"Professional Services is a consultative approach to provide a solution to your deployment requirements."

"That's a lot of nonsense and tells me nothing!" I can hear you proclaim!
Ok, then, how about this....:
"Professional Services is there to hold your hand through the initial design and deployment of your solution, enabling you to go live with minimal disruptions."
Why do I need Professional Services?
Ok, that's a bit better. But hang on, didn't you just publish a blog about how great your support team is?! Why on earth would I want to use Professional Services when I can use Support instead?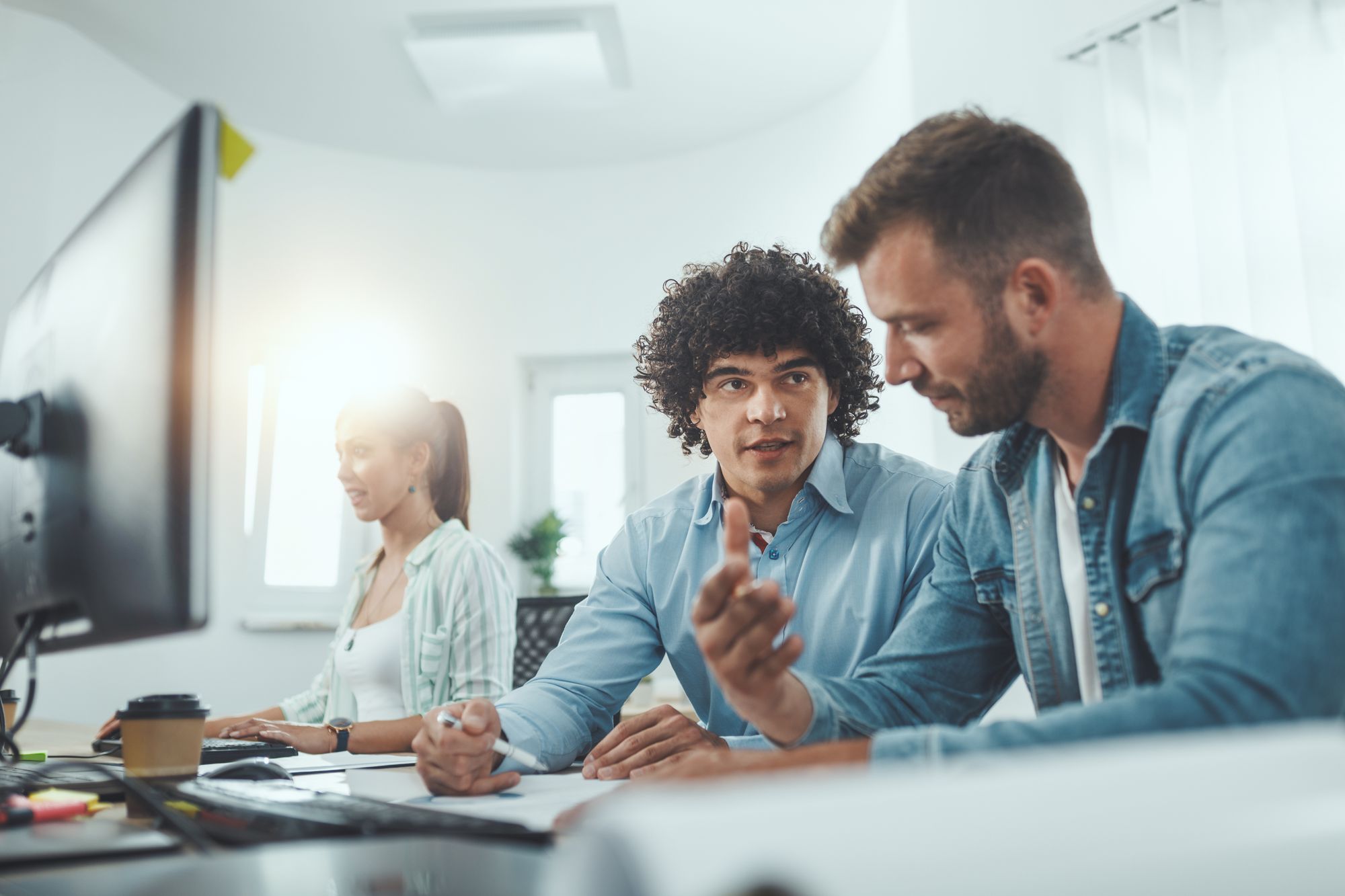 That's a good question. The answer to which is that, yes, our support engineers are a fantastic bunch of people. BUT they are there for the proactive and reactive support tasks (for example, the system is down, bug fixes, system updates, etc...), as well as to give general load balancing advice.
Now, I want to be candid here for a moment....One of the downsides of running a 24/7 support desk is that you have to operate rotating shift patterns. This unfortunately means that, while our support team is awesome, the same person cannot be there to work with you all the time, from start to finish. Likewise, that person cannot realistically be expected to take the time to understand your architecture in detail when they are having to deal with multiple urgent support requests.
In other words, for the Support team to provide the best support in the world, Professional Services need to alleviate some of life's other pressures from them (such as planning, system design, implementation, operation, documentation, and training, as well as continuous improvement). Hence why we've introduced Professional Services.
What I believe, is that the key difference between Support and Professional Services is that you will be allocated a dedicated subject matter expert (SME) in the field of load balancing.
They will work with you on your project to help deliver highly available and highly scalable applications and services. Additionally, by leveraging the Loadbalancer.org SMEs, customers would expect to accelerate, enhance, and de-risk their projects by taking advantage of the fact that the SMEs will (if required) not only advise on the subject of all things load balancing - but will also install the services for you!
When should I call on Professional Services?
Now I can hear you saying...."ok, so now I'm sold on the benefits of Professional Services, but at what point should I engage them?" Another very good question.
In my opinion (and from a "System Development Lifecycle" perspective), you would first engage us at the "Design" stage. This would give both you and us enough time to iron out any initial design concerns and get the right setup defined and ready for deployment. If it was required, I would then expect us to come back for the implementation process. After that, we move from operations to maintenance - which is where Professional Services ends and Support begins.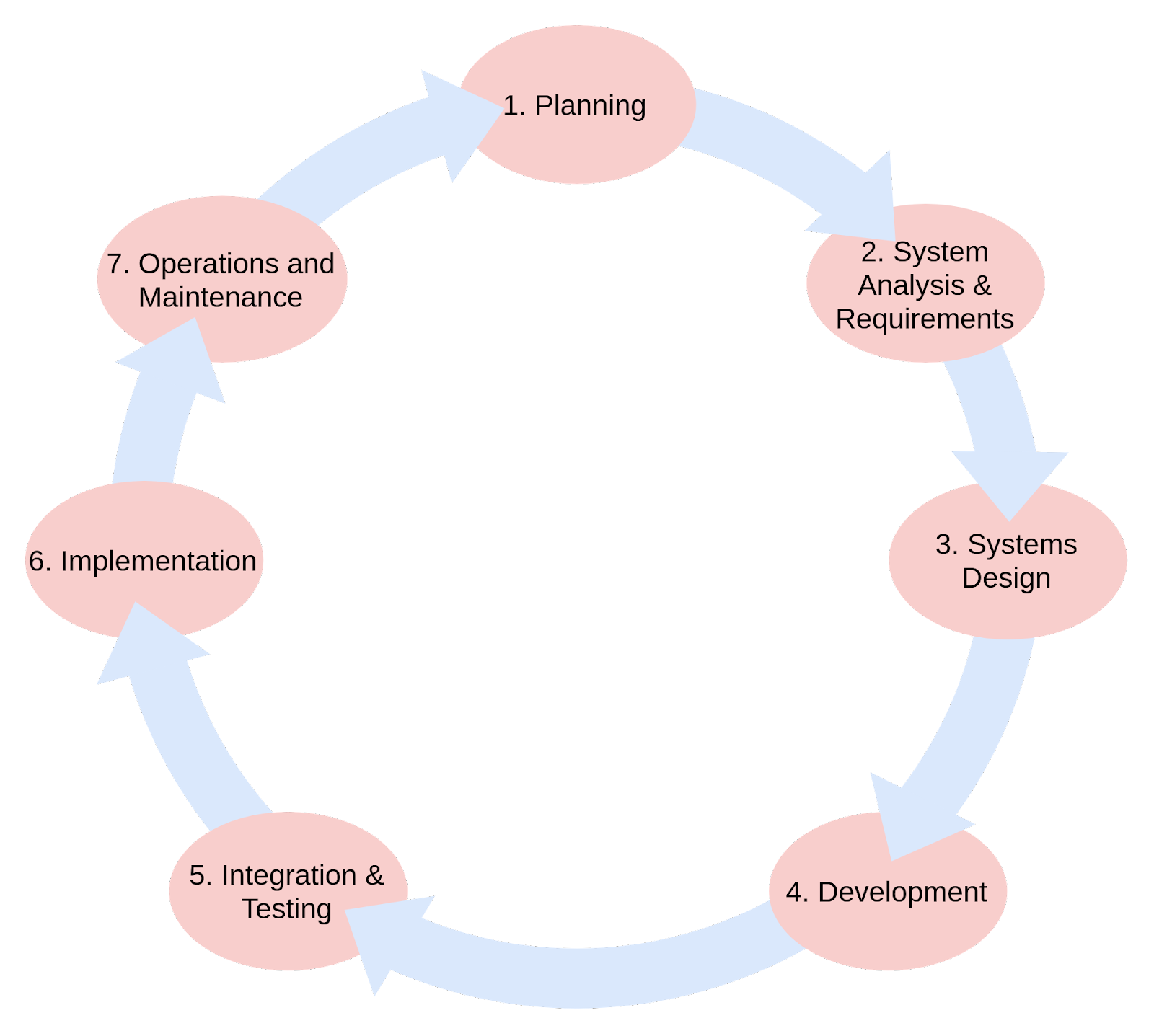 What I've outlined is 'in an ideal world' scenario, and applies IF you are following the "System Development Lifecycle" approach. Realistically, and I think more often than not, most people won't be following that methodology.
In my experience, Professional Services are more often than not realistically engaged to help fit into an already existing system (maybe to replace another load balancer, migrate to a virtual service, or just general system expansion). In this case, the SMEs would work with you to analyse your current architecture, advise on the best way to implement the Loadbalancer.org appliance, and then implement the configuration.
A Professional Services engagement example....
"Ok, I have a project and I want to engage Professional Services. What does that actually look like?"
I'm glad you asked ; )! Allow me to explain the different types of Professional Services engagement you might expect....
Firstly, Loadbalancer.org offers two types of engagements:
1.Pre-defined packs
Packs have been created that cover various typical deployments that our SMEs have encountered over the years. They cover items such as Exchange, Metaswitch EAS WAF, GSLB, and RDS deployments.
Packs can be bought in multiples to cover more complex deployments.
2.Custom packs
For projects that don't or can't fit into one of our standardised packs we have a custom offering. This would cover additional time and effort (T&E) required by the SMEs to maybe build a POC in order to understand both the product to be load balanced and customer requirements.
Regardless of which engagement option you chose however, a typical engagement process would be as follows: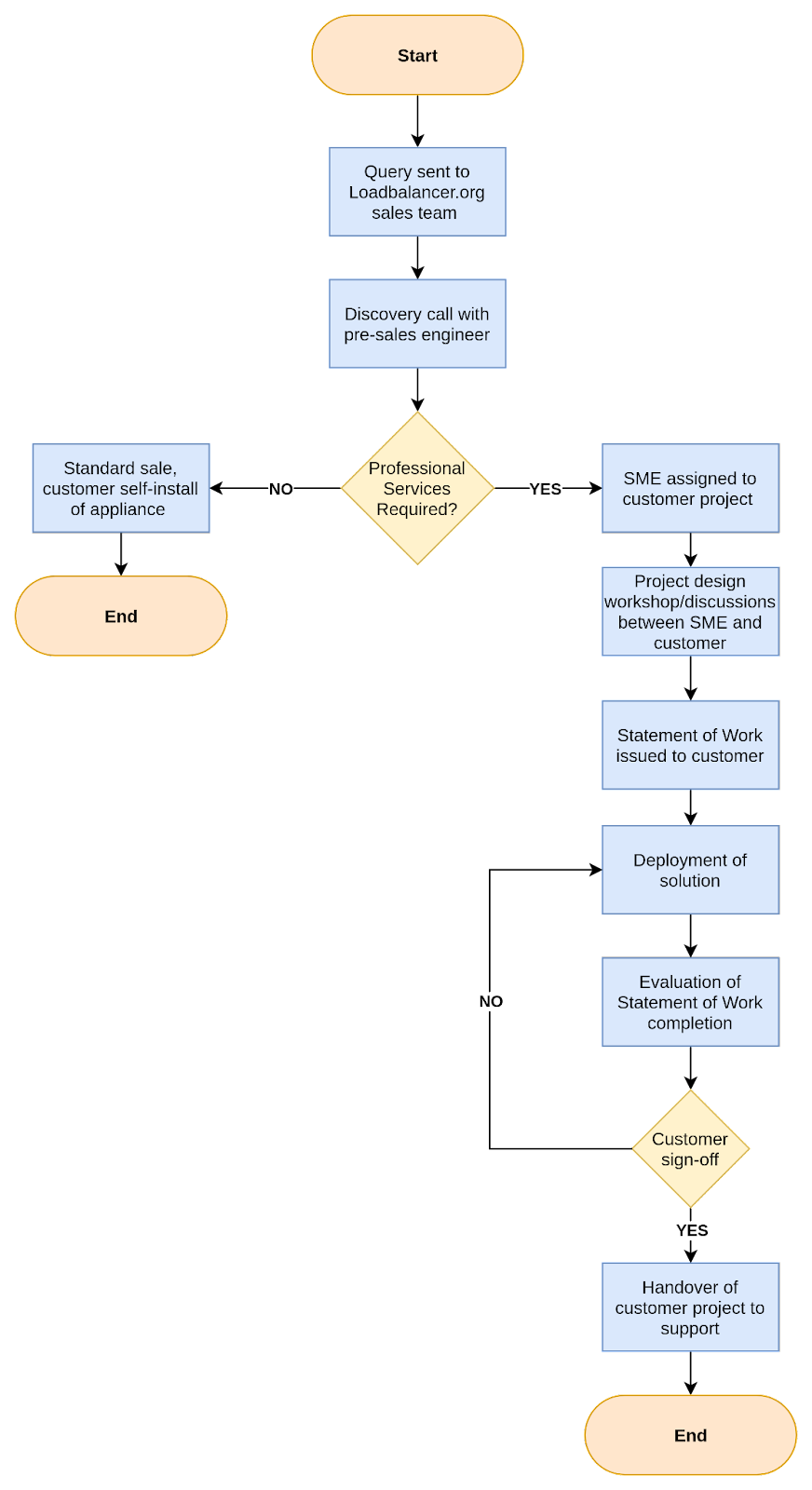 Now, I don't want to break down the entire flowchart above as I think some of the steps are outside the scope of this blog, so instead I'll highlight the following:
Project design workshop / discussions between SME and customer
At this step, one of the Loadbalancer.org SMEs will have been assigned to your project, had internal discussions with the pre-sales engineer to understand the high-level project requirements, and then commenced discussions/workshops with you in order to fully understand the low-level aspects of the project.
Information is key at this stage, so if you can supply requirements, network/system diagrams, and any other pertinent information it would be a real benefit to the overall engagement.
Statement of Work issued to customer
The SME will discuss and issue the Statement of Work to you.
Ultimately, the Statement of Work covers:
Project scope
Services to be implemented
Prerequisites (as in what prework is required for the SME to be able to successfully deliver)
Place and method for implementation (e.g. on-site or remote access)
Completion criteria (the implementation criteria and acceptance criteria - e.g. OAT/OPT/UAT etc…)
Out-of-scope operations
Document change control (agreed changes of the Statement of Work between you and Loadbalancer.org)
Once the Statement of Work has been accepted and signed off, the deployment can begin
Deployment of solution
This is probably the most self explanatory step here, but this is where all of the meetings, discussions, and planning come to fruition and the SME carries out the work as-per the Statement of Work.
Evaluation of Statement of Work completion
After deployment, the Statement of Work is revisited to ensure that the work undertaken meets the completion criteria. If all is well then we move on to the final step. On the other hand (and let's face it, it does happen), if you are not happy with the completion criteria then the SME will go back to the deployment to correct any errors encountered.
Handover of customer project to support
Finally, once the work has been signed off, the SME will handover the project details to the Loadbalancer.org support team so that they are ready to continue providing you with the best support possible.
Conclusion
Taa-daa! So there you have it.
Takeaways (I hope!) are that you understand the difference between Loadbalancer.org's Support and Professional Services offerings. And, if in any doubt, save yourself time and money further down the line by engaging us sooner rather than later. We often get brought in to pick up the pieces when things have gone wrong, so if you're not 100% sure you can do it on your own, reach out before things turn ugly. Unless of course, you have a Tony Stark on speed-dial....
So, do reach out if you have a specific project you'd like to discuss. And tell them Dan sent you ; ).
Share this post