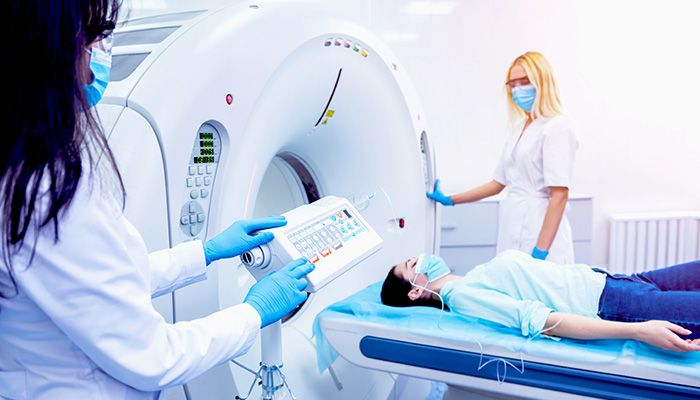 How Loadbalancer.org helped this medical imaging vendor centrally manage their load balancing estate
Use Case
Published on

•

3 mins
Last updated
Enhanced visibility for more efficient and secure ADC management.
Here I will explain how we helped one of our key partners overcome support and maintenance issues with their incumbent load balancing vendor with the development of our new centralized management platform: the Loadbalancer ADC Portal.
But first, let's kick off with a quick analysis of the issues this partner faced...
The use case: Major issues with on-site security updates
This medical imaging partner had hundreds of hardware load balancers in the field, provided for them by F5, servicing their mission-critical enterprise imaging applications at numerous hospital sites.
Every time F5 announced a new public security vulnerability, this healthcare technology provider had customers call them, asking them to push a patch for the update to their ADC appliances ASAP.
As we all know from the WannaCry ransomware attack, vulnerabilities can and have been exploited to cause catastrophic issues to essential healthcare providers and services.
As a result, this partner was therefore required to send their engineers to hundreds of sites to ensure the F5 load balancers were made secure.
However, by the time they were able to patch around 1/2 of the hardware load balancers, another security vulnerability would be announced, taking them back to square one — with concerned customers even more adamant they needed their patch installed immediately.
This partner decided that this approach was not sustainable, as they felt their customers' security was being compromised. It was also stretching their teams' capabilities and resources. Hence they needed to find an alternative load balancing vendor that could help them more effectively manage their ADC estate.
The final outcome: The Loadbalancer ADC Portal was born
Through the course of our conversations with this medical imaging vendor, Loadbalancer developed a new centralized management platform to help this partner remotely manage their entire estate of ADC appliances (not only Loadbalancer.org products!) from a single pane of glass, equipping them with the tools to more effectively manage and secure their ADC estate.
How Loadbalancer.org achieved these results: tailored centralized management functionality.
Approach...
When this partner first picked up the phone to us to see if we could help we didn't have a ready-made solution available. They had a very specific need for a solution that would negate the need for on-site updates and allow them to remotely perform batches of updates to their large estate of load balancers.
Our approach for our technology partners is always to start with their problem rather than our solution, so we were undaunted by the challenge! And, with the belief that a centralized ADC solution would also benefit the wider market, we worked with this healthcare technology provider over the course of the next few months to trial a number of different versions to make sure we were able to provide them with the functionality they needed.
For more on the backstory of the Loadbalancer ADC Portal, and how we developed this to meet the needs of this partner, check out this blog: "The Loadbalancer ADC Portal backstory: vendor-agnostic centralized management" for more details.
The Loadbalancer ADC Portal functionality developed...
The outcome was a tailored centralized management platform that enabled automation, orchestration, management, and security for application delivery across on-prem, cloud, hybrid, and multi-cloud environments.
A brief summary of the functionality provided was as follows:
A comprehensive ADC dashboard - To consolidate all of this vendor's appliances in a single dashboard to help them effortlessly monitor their status.
A way to automate routine tasks - Automated workflows were created to allow common ADC tasks to be set up and scheduled in advance.
A fully secure way to control their assets - Full end-to-end security was provided, using state-of-the-art cryptographic technology, combined with role-based access, meaning they were always the one in control.
Why they chose us: market leaders in load balancing healthcare applications
Our medical imaging expertise...
Tech vendors and healthcare organizations work with us because we are the market leaders in load balancing PACS systems and medical imaging equipment globally and the only vendor with a dedicated healthcare team. For more than 20 years, we have worked with a range of 'blue chip' customers and partners such as Fujifilm, Philips, GE Healthcare, Change Healthcare, Carestream, and Hologic, and developed validated solutions for many others.
Our extensive experience engineering healthcare applications (from Enterprise Imaging to Clinical Workflows, EHR to Interoperability solutions) allows us to work closely with existing and prospective customers to develop solutions that facilitate high availability, scalability, and zero downtime for critical healthcare applications.
For a full list of our credentials or to discuss this use case in more detail, speak to the team for more info.
Share this post