There was an official presentation ceremony held at our UK office for receiving the prestigious Queen's Award for Enterprise in the International Trade category this week. The accolade is the highest official UK award for business and was presented to us in recognition of our rapid growth and soaring international sales.
The Grant of Appointment was presented to the founders on behalf of the Queen's personal representative, HM Lord-Lieutenant of Hampshire, Nigel Atkinson. Also in attendance was Deputy Lieutenant Tim Weale and the Lord Mayor of Portsmouth, Councillor Lee Mason.
"I am delighted to present, on behalf of Her Majesty The Queen, such a highly prestigious award for outstanding achievement by a UK business. It is recognition of the hard work achieved by all the members of staff". Lord Lieutenant, Nigel Atkinson.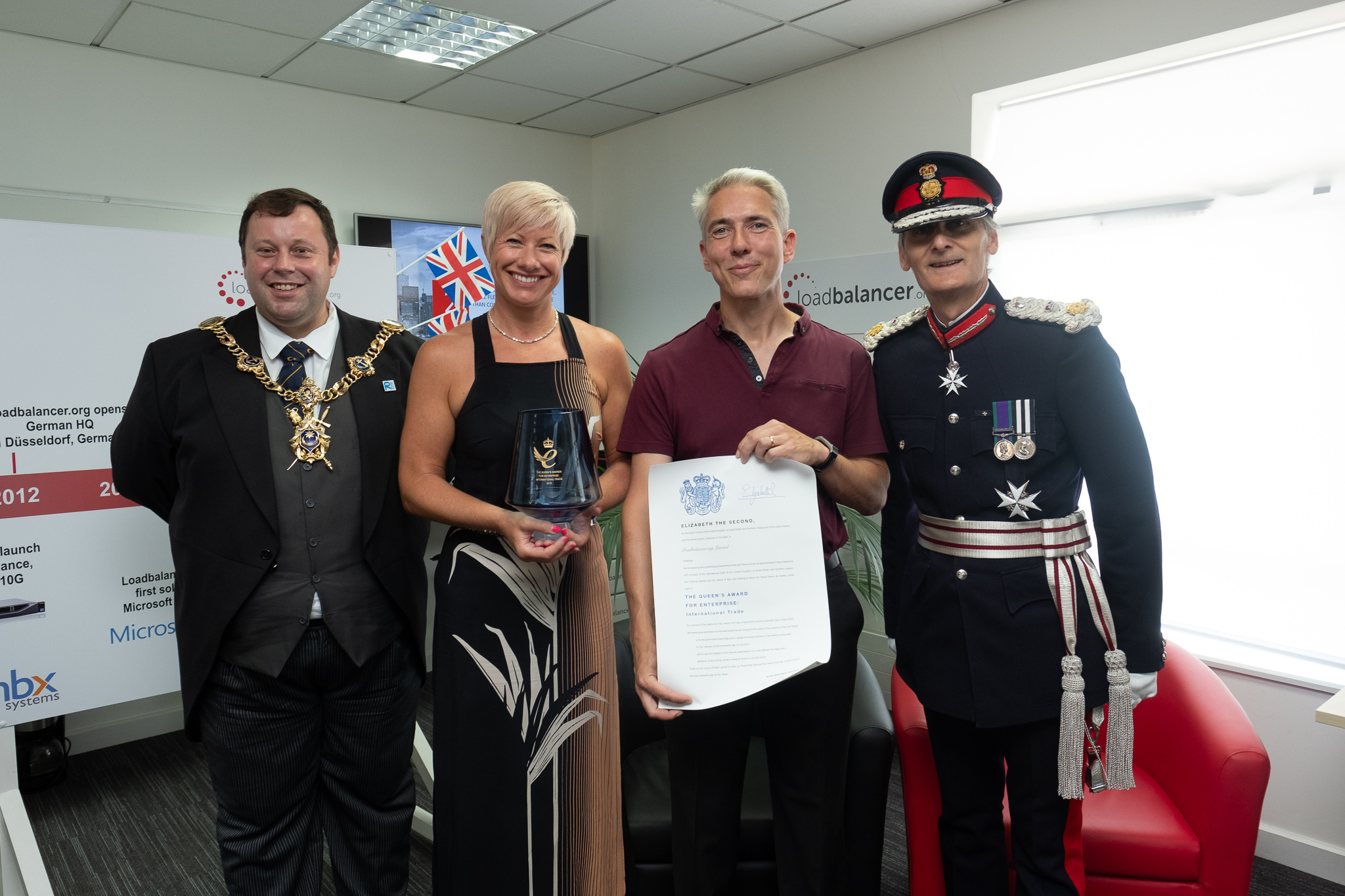 From left to right; Lord Mayor of Portsmouth Lee Mason, COO Karen Turnbull, Founder & CEO Malcolm Turnbull and HM Lord-Lieutenant of Hampshire, Nigel Atkinson.
In addition to the Grant of Appointment, we also received a commemorative crystal bowl and we are now able to fly the Queen's Award flag at our office. We can also use the official emblem in our advertising and marketing efforts which is valid for 5 years.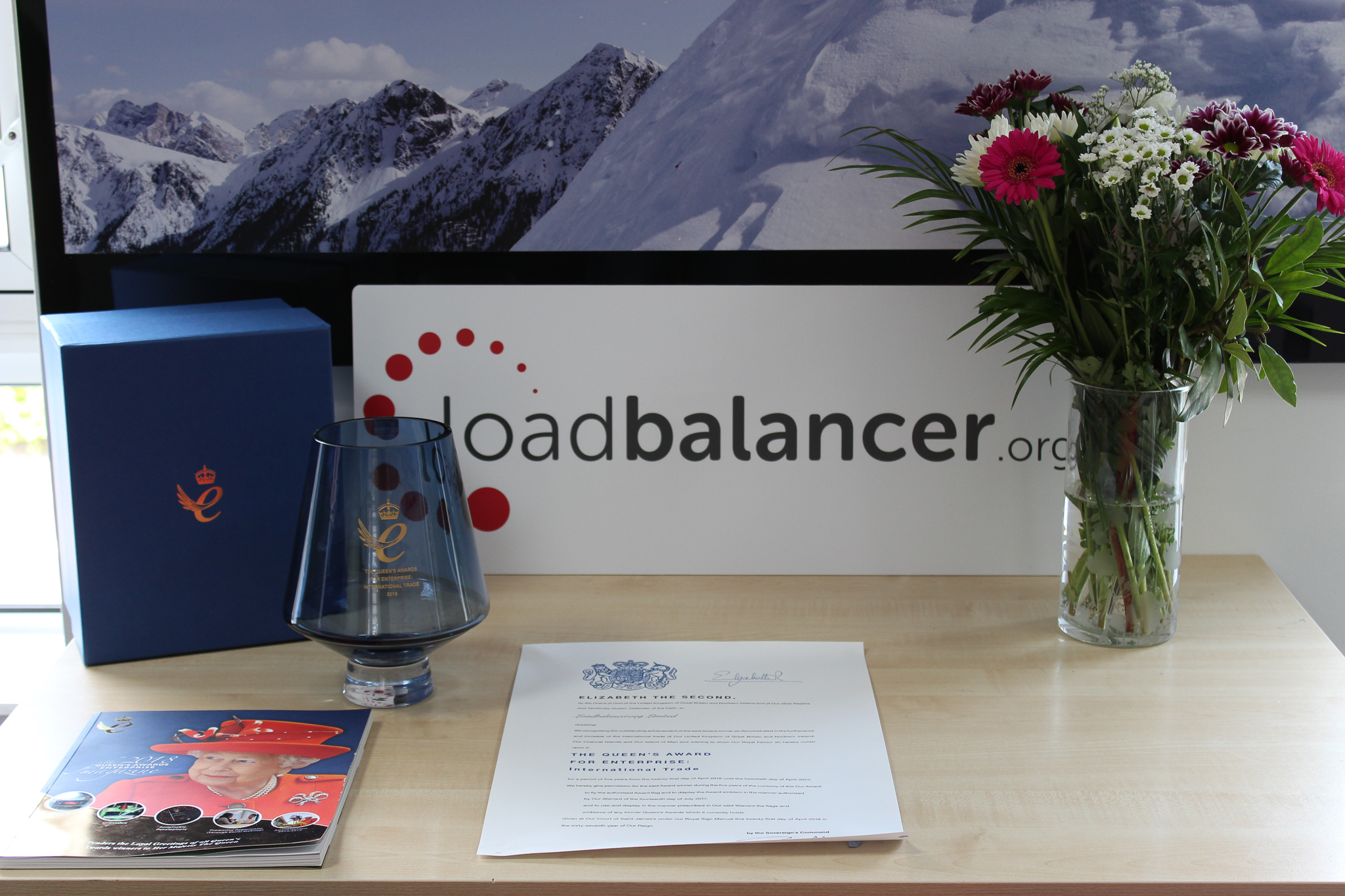 When we met Prince Charles...
You'll remember from my previous blog that we were invited to the Queen's Award royal reception at Buckingham Palace which was hosted by Prince Charles to commemorate the occasion.
I wasn't lucky enough to go but we did get some cool pictures of Malcolm and Linda..!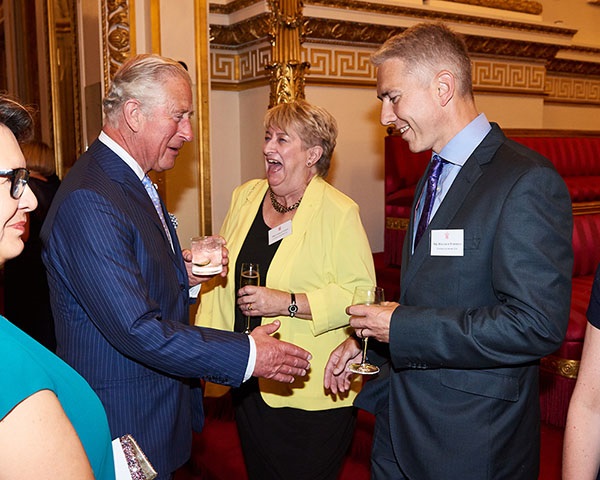 Being recognised for International Trade...
Since Loadbalancer.org's inception (just over 15 years ago), the company has expanded rapidly, customers include internationally renowned companies such as Vodafone, ASOS, NBC, Barclays, Ricoh and Canon. With approximately 50% of sales in the USA and deployments in over 70 countries, we are recognised as the trusted experts in the application delivery field.
In 2017, we doubled in size, both in terms of revenue and number of employees. This continued growth further established our position as global leaders in cost-effective application delivery products and services.
The award is a great achievement for the company and we are delighted to be honoured by the Queen. As a business, we pride ourselves on providing superior load balancing solutions to companies across the world in various industry sectors and continuing to work alongside them to avoid the pain of computer system failure. The staff at Loadbalancer.org definitely deserve this recognition – for always going the extra mile when a customer is in a stressful situation. They have made Loadbalancer.org the vibrant and successful international business it is today." Malcolm Turnbull, Founder & CEO
About The Queen's Awards for Enterprise 2018
The Queen's Awards for Enterprise have been operating in various forms since 1966. The awards recognise outstanding achievement by UK businesses in the categories of: International Trade, Innovation, Sustainable Development.
The Queen's Awards for Enterprise, International Trade looks at overseas sales and particularly, export or international trade strategy.
Share this post