Editor's note: The following is a guest blog post from IT Central Station.
Over the last few months, the team at IT Central Station reached out to Loadbalancer.org customers with one goal: to find out what they really thought about their experiences with Loadbalancer.org.
As the leading site for enterprise technology user reviews, we are constantly on the hunt for user feedback that can help our ever-growing community of tech professionals make future buying decisions for their companies. When our team works with companies like Loadbalancer.org to get reviews from their customers, we have the unique opportunity to hear honest feedback from real users who are all too happy to share their opinions.
Dubbed as "The Yelp of Enterprise Technology" by the Wall Street Journal, we at IT Central Station have created a long-standing reputation of offering current, objective, and relevant information about enterprise technology solutions to our community. Through our triple-authentication process, we ensure that our reviews only come from knowledgeable users without vendor bias.
To that end, while Loadbalancer.org allowed us to reach out to their customers, they were not present when their users were providing reviews, nor did they approve the reviews before they were published on our platform. This was to ensure that Loadbalancer.org users were able to provide their impartial opinions that could best benefit our community.
As we collected these reviews, we discovered that many of the Loadbalancer.org users providing reviews highlighted similar features that contributed to their positive experiences with this leading application delivery controller.
In this post, we highlight three of the most prevalent themes that has come up among Loadbalancer.org users, which we hope will help others looking for honest, unbiased load balancer reviews or comparisons in their market research.
Technical Support
One of the top themes that has come up in our users' reviews of Loadbalancer.org is their unparalleled technical support:
"Their technical support is one of the best experiences that I have ever had. We have even had a need for custom health checks, and they have really risen to the challenge."
Chris D., Systems Programmer at a energy/utilities company with 500+ employees.
"The support is amazing. The product itself is pretty simple to be honest. It's the support which is the differentiator for the product. The company has an excellent support team, 24-hour support. It's excellent, second to none."
Patrick L., IT Manager at a recruiting/HR firm.
Reduces cost for customers
Another valuable feature that comes up repeatedly among Loadbalancer.org users on IT Central Station is how it helps reduce costs for their own customers:
"It has relieved the load on our team so we can focus on other aspects of the operation. When we do load balancing, the customer does not know that this particular node is down because the load balancing hides it from them. So, from a customer point of view, they have what I would call an unbreakable service. So it does improve our SLA with the customer."
"It was part of a project that we did where we used to outsource all of the web-filtering to a third party. We weren't very happy with it. We wanted to bring everything in-house, control the system ourselves. This is an absolute key component to being able to allow us to do that. It's enabled us to have much better service to offer at a cheaper price, and much more resilient."
Richard M., Business Development Manager at a government agency with 1,000+ employees.
Reliability
Loadbalancer.org's reliability is another popular theme that has come up in their user reviews on IT Central Station. For many of their customers, Loadbalancer.org is a crucial tool for maintaining their everyday operations:
"They work. It just keeps going. The vendor will set them up, and they've just been trouble-free. They've just worked. They just keep going. That's what the principal purpose of the load balancer is, to work around and be available when there's any outages with the cluster behind. They just keep going, which is exactly what we want them for."
Senior ICT Support Officer at a government agency with 5,000+ employees.
"It means that if one of our mail-servers falls over, it's a much more seamless process. Or if we need to do maintenance on one of them, we can take it out of the Loadbalancer in a controlled fashion so that users don't notice that there's been a problem, or that maintenance is going on. They continue business as usual. It's made end-users' experience much better."
Mike I., IT Operations Manager at a healthcare company with 1,000+ employees.
Compare load balancers on IT Central Station
Want to learn more about what enterprise technology professionals really think about Loadbalancer.org? Read more of their user reviews here.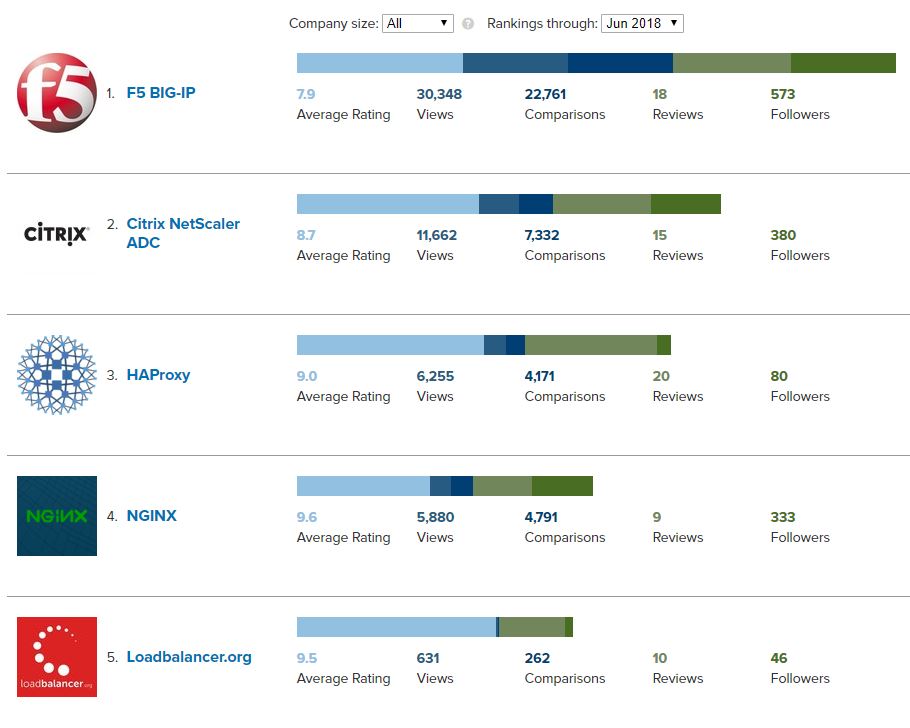 Want to share your opinions about Loadbalancer.org with our community? Write your own review.
Share this post