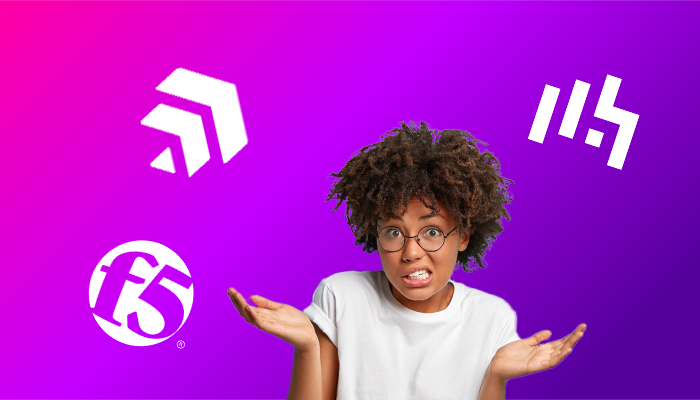 How do F5, Kemp, and Loadbalancer.org ADCs compare?
Comparisons
Published on

•

4 mins
Last updated
Part of me wonders whether anyone will read this. After all, why believe what an interested party has to say? Surely, you'd be much better off checking out Application Delivery Controller (ADC) reviews on Reviews.io, Gartner, or G2? And I'm sure you will. But to save you some time, here's a quick summary of how F5, Progress Kemp, and Loadbalancer.org compare on the big three: price, features, and ease of use.  
Price comparison; F5, Kemp, and Loadbalancer.org
F5 is undoubtedly the biggest load balancer provider in the market. Everyone knows who they are — and that's basically their superpower. Being the largest player means that they can afford to be the most expensive, so when comparing apples to apples you will likely be spending 4x the cash to get the same functionality.  
Here's a vendor hardware ADC cost comparison:
Vendor
4G Throughput
10G Throughput
100G Throughput
F5
N/A
No entry-level option
$17,995
F5 BIG-IP i2600
$96,995
F5 BIG-IP i10600
Kemp
$4,200
Kemp LM-X3
$11,000
Kemp LM-X15
$48,000
Kemp LM-XHC-100G
Loadbalancer.org
$4,995
Enterprise Prime
$9,995
Enterprise Flex
$20,995
Enterprise Max
* Prices shown are for a single ADC only
** Throughput figures have been rounded for comparative purposes
Where the pricing gets really interesting is the huge BIG-IP models such as the i15800. This device boosts throughputs of up to 160Gbps, but comes with a hefty price tag, just short of $1 million for a clustered high availability pair and technical support!
Which has unforeseen consequences for the client...
Because of such high costs, users end up compromising by adding hundreds of applications onto the same pair of devices, which often creates a huge potential risk for large organizations.
But hang on (you might say) what about extras like GSLB and WAF? Surely those need to be factored in? At Loadbalancer we don't believe in hidden charges, with GSLB and WAF already included in the list price.
F5 will charge you extra for these, as will Kemp.
Price takeaway? The bigger you go, the better Loadbalancer.org compares. While we are pretty similar to Kemp on the entry-level appliances, our 100G is half the price of Kemp's, and 5 times cheaper than F5's!
Functionality: F5, Kemp, and Loadbalancer.org
What about functionality? Here's a quick summary:
F5 — The 'more is better' approach. Their products, it is generally agreed, offer all the features that you might ever need (as well as a great many more, that you will almost certainly never use). The size of your business and the scale of your application usage will be key factors in determining whether you are justified in making an investment in F5.
Progress Kemp — The classic load balancer. Progress Kemp offer a standard range of features that will meet the needs of the majority. Their customers are likely to have somewhere in the region of 2-5 load balanced clusters, with less than 100 Mbps throughput and less than 5 SSL TPS.
Loadbalancer — A focus on task-technology fit. We offer a similar range of features to Kemp but our approach is very different, working directly with end users, as well as technology providers. We believe that having more features than you need can actually increase the risk of human error, and introduce unnecessary complexity. We therefore offer our partners the ability to tailor their feature list, providing greater control and flexibility.
If you need bells and whistles you can't go wrong with an F5. Although taking a FOMO approach (Fear of Missing Out) may mean you may end up paying massively over the odds for functionality you don't need.
Functionality takeaway? F5 offer more features than any other ADC on the market. Kemp will suit the vast majority of use cases. Loadbalancer.org has similar plug and play functionality to Kemp, but (unlike Kemp) we are able to tailor features to suit the needs of individual application vendors.
Ease of use: F5, Kemp, and Loadbalancer.org
In summary:
F5 — Their product is scarily complex to manage, so you will need to pay an F5 certified engineer to update and manage it.
Progress Kemp — Kemp's products are much easier to use than F5, and will likely provide the off-the-shelf functionality you need.
Loadbalancer — We think it's incredibly important to make our appliances simple to configure, easy to deploy, and easy to maintain. We take a clever, not complex, approach which means we try and simplify the WebGUI for those in the IT Department having to manage it.
If ease of use is as important to you as providing a seamless experience for the end user, then a Loadbalancer or Kemp will serve you well. After all, why shouldn't those tasked with managing and updating their ADC suite have an easier time of it?!
Ease of use takeaway? Loadbalancer.org prides itself on being the cleverest but least complicated ADC on the market. Kemp is also easy to use, while F5 is for brain surgeons only.
Conclusion
If your use case requires something rare and complicated, then F5 is your best bet (although make sure you have deep pockets!). If you want something that likely ticks most of your boxes, then Kemp could be it. And if you need your ADC to be tailored, then Loadbalancer might be what you're after. Although you won't know until you try it. Why not download our free trial and be the judge?
Share this post