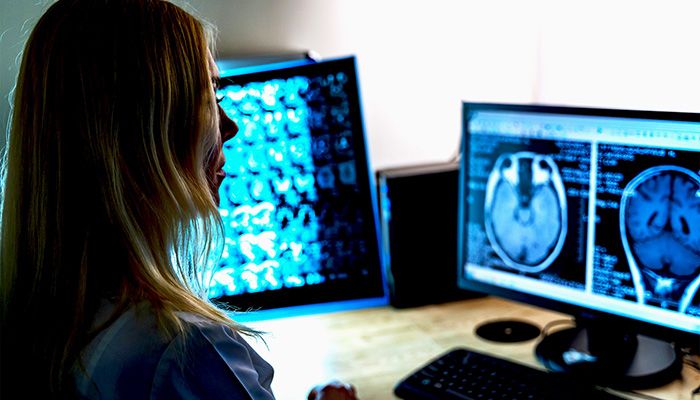 Loadbalancer.org vs F5: Which ADC for your enterprise imaging applications?
Healthcare
Published on

•

7 mins
Last updated
Why is Loadbalancer.org the market leader in load balancing medical imaging applications? And what DON'T you get from F5?
An efficient, resilient radiology workflow is crucial to delivering the best patient care. So a complex and ever-changing healthcare IT environment — often with resource constraints — requires a considered approach.
As one large healthcare provider understandably asked me the other day: "We use F5 because they are the dominant ADC vendor. What do you offer that's different?'
So I told them...
Loadbalancer.org vs F5: Healthcare experience
What F5 offer
F5 do indeed have the largest share of the Application Delivery Controller (ADC) market. They do NOT however, specialize in load balancing medical imaging applications.
These high-end load balancers offer an orchestra of features, and have everything covered "just in case". For their customers, the priority is therefore not ease of use, maintenance, or the user experience. In fact, their software is so comprehensive and complex that it is sometimes so unwieldy that only qualified technicians can make changes, or deploy updates.
It might be at this point that alarm bells start ringing for healthcare providers. For a risk-averse environment such as a hospital, deploying complex technology is often less than ideal. Yes you can guarantee the functionality you need is in there somewhere, but in an ecosystem where simplification is increasingly the name of the game, overcomplicating your software stack might not be the way to go.
What Loadbalancer.org offers
Healthcare providers trust Loadbalancer to load balance their medical imaging technologies because we've been working closely with the leading providers to tailor our solutions to their specific needs for decades.
Here are just some we've helped over the years:
Because of this, our ADCs have evolved to provide clever, not complex, solutions that any IT team can manage. Ensuring these critical applications remain highly available and resilient. As our Co-Founder explains:
"Our extensive healthcare experience has led us to become the market leader in load balancing medical imaging applications". Malcolm Turnbull, Co-Founder, Loadbalancer.org.
And it is this experience that leads us to conclude that medical imaging requires a different approach.
Here's what we've learned over the years...
1. Hospital infrastructure is incredibly complex
Healthcare IT infrastructure is extensive and complicated. It needs to connect primary and secondary healthcare providers, hospitals, patients, drug companies, research institutions, pharmacists, IT teams, insurance providers and financial institutions.
A spaghetti of disparate systems, legacy systems, monolithic applications, and complex technology means caution is always advised before introducing anything else into the mix.
So you can't just simply buy any old load balancer and expect it to work straight off the bat.
"By using solutions from Loadbalancer.org we can protect our clinical applications and data, without having to compromise on the flexible remote access that users need." Andy Spencer, Systems Team Leader, Nottinghamshire Healthcare
2. Medical imaging systems, standards and protocols are unique
Medical imaging has come a long way in the last couple of decades, and modalities (medical imaging devices) are improving all the time. This has led to an eclectic mix of old and new medical imaging applications e.g.
PACS - A picture archiving and communication system (PACS) that provides economical storage and convenient access to images from multiple imaging modalities. Electronic images and reports are transmitted digitally via PACS; which eliminates the need to manually file, retrieve, or transport film jackets.
VNA - The aptly named Vendor Neutral Archiving (VNA) has taken us one step closer to the goal of an open standard for medical archiving. VNA has encouraged many hospitals to improve their existing solution or even replace it entirely to take advantage of new modalities and better service availability.
There are also a variety of healthcare systems within hospitals that are ideally interfaced to share data using protocols such as HL7. These include Hospital Information Systems, Radiology Information Systems, Patient Administration Systems, and Admission, Discharge and Transfer Systems.
To enable access to stored images and associated data, DICOM workstations are used which connect directly to the DICOM source. Viewer servers are also used which enable client PCs to view DICOM images using a web browser via HTTPS.
3. The need for DICOM health checks
The Digital Imaging and Communications in Medicine (DICOM) standard describes the means of formatting, storing and exchanging medical images and image related information to facilitate the connectivity of medical devices and systems. The DICOM Standard endorsed by the National Electrical Manufacturers Association (NEMA) is a result of joint efforts of users and manufacturers of medical imaging and healthcare information technology. Today, virtually all imaging devices (modalities) that are used in radiology, such as CT, MRI, Ultrasound, RF, and other digital rooms, support the DICOM standard for the exchange of images and related information.
Because of its importance, we have a specific health check built into our load balancer appliance for the DICOM protocol, so anyone deploying our product with their medical imaging application can use our DICOM ECHO toolkit to run a health check.
Loadbalancer.org vs F5: Price comparison
When the financials are under the microscope, it can sometimes be hard to compare load balancing vendors for a number of reasons:
Products may not always match up like-for-like
Some vendors aren't transparent regarding pricing
Features can often be sold separately
So let me go back to the healthcare provider I mentioned earlier, and their original request for a detailed comparison of Loadbalancer.org v their existing F5s (BigIP i2600).  Here's what I came up with...
We started with the obvious, comparing the costs of our equivalent product:
The Loadbalancer.org product is less than half the price.
Loadbalancer.org vs F5: Out-of-the-box functionality
On top of the list price, F5 will charge you extra for Global Server Load Balancing (GSLB) and Web Application Firewall (WAF) functionality.
GSLB - Providing multisite resilience, GSLB can benefit a deployment that's spread across multiple sites, connecting them together. An example benefit of a GSLB deployment might therefore be the ability to switch to a PACS or VNA server located at site B, if the server at site A is unavailable for whatever reason. Learn more about GSLB.
WAF - Used to encrypt, inspect, and decrypt traffic, a properly configured WAF can make your applications more secure. A WAF is focused on web traffic by nature, so it isn't directly applicable to medical imaging traffic e.g. DICOM. However, many of the medical imaging vendors we work with bundle web viewers and web apps with their medical imaging offering e.g. a web app for viewing images, or a web app for patients to access their data. So healthcare providers are still able to protect their web application offerings with a WAF. Learn more about WAF.
So the Loadbalancer.org product includes more out-of-the-box than the F5.
Loadbalancer.org vs F5: Imaging capacity
A standard imaging deployment combines fast, highly available storage with unrestricted retrieval of images using our ultra-fast Layer 4 Direct Routing (DR) mode of operation.
In a large hospital environment, peak image retrieval traffic volumes can be more than 5x the volume of storage traffic, so capacity and the ability to scale is important.
Here's how we compare:
Again, the Loadbalancer.org product outperforms the F5. For more detail check out our vital imaging stats.
Loadbalancer.org vs F5: Tailoring
No other ADC vendor in the market can tailor their product and commercials in the way we can.
Due to the complexity of hospital environments, this is often precisely what many healthcare vendors are looking for. Here are a few examples of things we've done for our medical imaging partners:
Tailored white-labelling of appliances
Tailored product, sales, support and implementation training
A dedicated specialist account manager
Detailed technical deployment documentation
Automated deployment templates
A centralized management ADC management tool
F5 do not offer tailoring. End of.
Loadbalancer.org vs F5: Support
We understand how important it is that your applications never fail — which is why our support is second to none.
Loadbalancer's products are designed to be easy to implement and maintain but our passionate networking experts are on hand to help 24 hours a day, 365 days a year, in whatever country and time zone our healthcare partners operate from.
We believe in excellent service every time, and so that's why we offer our tierless support system to support quickly and effectively. Furthermore, our support services are not just limited to our appliances, we often assist our customers to fix issues with connecting applications and infrastructure too!
F5 ADCs are...excellent. They are, after all, market leaders for a reason. However with this comes a hefty price tag and strict SLA policies depending on your support agreement. Of course, if Standard or Premium options don't cut it, you can always fork out for Premium Plus, but remember:
F5 Support Services will not provide concept, design, authoring, or creation of code associated with F5 Programmatic Interfaces.
Conclusion
I'll leave you to draw your own conclusion. But let's just say, the healthcare vendor I spoke to was a little blown away by my response.
Choosing a solution may seem overwhelming, but it's important to consider all your options. And that comes down to a few simple steps:
Evaluate your needs and make sure the appliance you buy meets them for the short and long term.
Make sure the implementation of the appliance is simple.
Prioritise excellent service and support.
Choose a vendor who has an extensive history of working with medical imaging companies and knows how to meet your needs.
If there's anything I've missed here that you'd like to know more about, feel free to message me at: sales@loadbalancer.org.
Share this post