Load Balancing Ceph Object Gateways
Ceph is a free and open-source object storage solution. It provides for the building of massively scalable and decentralised storage clusters, up to petabytes or exabytes of data, using standard commodity hardware. At the heart of Ceph is its Reliable Autonomic Distributed Object Store (RADOS) which provides the underlying storage functionality.
Ceph provides three interfaces for accessing its RADOS storage cluster: the Ceph File System (CephFS), which presents storage as a traditional POSIX-compatible file system; the Ceph Block Device (RBD), which allows storage to be mounted as a block device; and the Ceph Object Gateway (RGW), which provides S3 and Swift-compatible API access, which is the subject of this page.
When load balancing Ceph for high availability and scalability, multiple Ceph Object Gateways must be deployed as part of a Ceph deployment. Additional gateways can be deployed over time to increase capacity to meet demand as needed.
Recommended Product
Enterprise
10G
As you plan for future application demands on your network, the Enterprise 10G offers unbeatable 10G transfer rates for high throughput environments.

Deployment Mode
The load balancer can be deployed in 4 fundamental ways: Layer 4 DR mode, Layer 4 NAT mode, Layer 4 SNAT mode, and Layer 7 SNAT mode.
When load balancing Ceph Object Gateways, using layer 4 DR mode or layer 7 SNAT mode is recommended. It is also possible to use layer 4 TUN mode or layer 4 NAT mode in specific circumstances, however these load balancing methods come with many caveats and should only be considered if both layer 4 DR mode and layer 7 SNAT mode have been discounted.
Layer 4 DR mode and layer 7 SNAT mode are both described below and are used for the configurations presented in this guide. For configuring using DR mode please refer to the section starting on page 19 of our deployment guide, and for configuring using layer 7 SNAT mode refer to the section starting on page 21.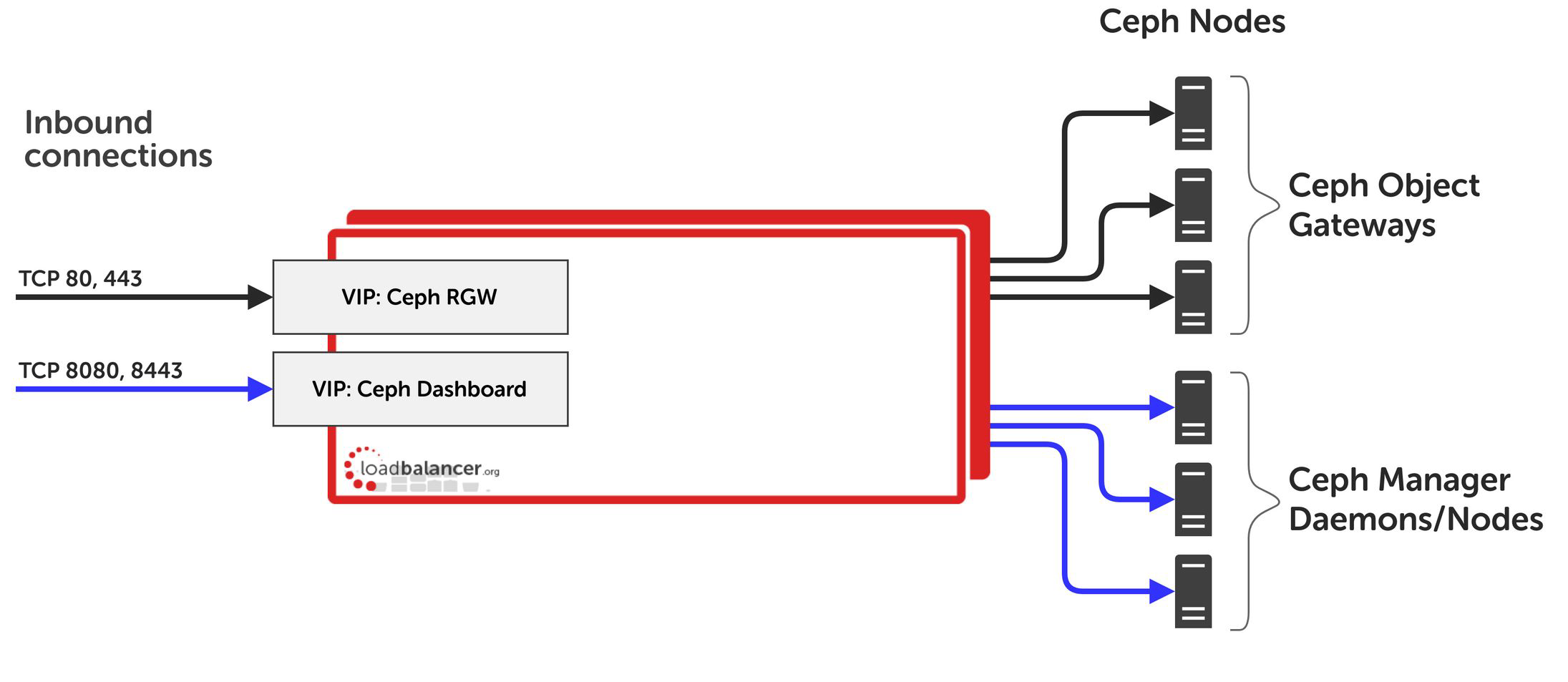 The load balancer can be deployed as a single unit, although we recommend a clustered pair for resilience and high availability. Details on configuring a clustered pair can be found on page 36 of our deployment guide.