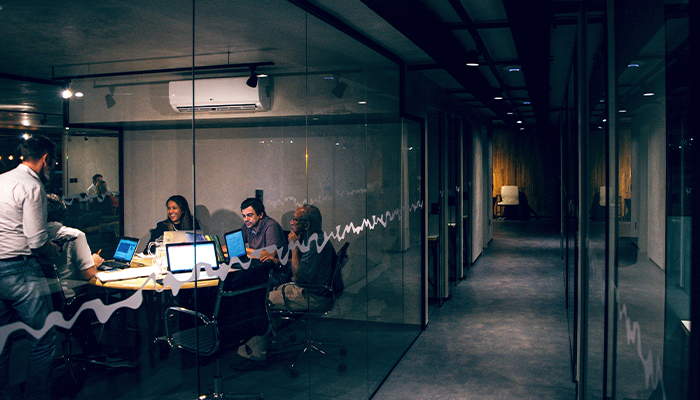 How Application Delivery Controllers (ADCs) can help object storage vendors increase their margins in an economic downturn
Storage
Published on

•

6 mins
The current economic uncertainty is hitting businesses hard, with higher costs and increased cost control measures. Consequently, with IT spend under the microscope, data storage vendors are unlikely to escape scrutiny, making it harder for them to win new business and hit targets.
So how might Application Delivery Controllers (ADCs) help object storage vendors increase their margins and change their fortunes?
The challenge: The current economic climate
Businesses are always under pressure to drive profitability, but in a stagnant or retracting economy it can be harder for them to sell to new customers, meaning companies are less likely to want to invest their limited financial reserves on speculative action.
It's no wonder then that bankruptcies and the declining turnover of key players, regions, industries and applications has object storage vendors worried. While data continues to grow exponentially, so too does the cost of storing this data. Hence businesses are more likely to try and eek greater value out of their existing infrastructure than rush to invest in meeting future requirements.
The solution: Sell more to existing customers
In a challenging market economy customers understandably want to get their money's worth and know they're getting real value across the whole of their supply chain. Conversely, object storage vendors are likely to want to double down on existing customers. But to achieve this, they need to demonstrate ongoing value. So how can they entice existing customers to spend more money, when they've already purchased their product?
Enter Application Delivery Controllers (ADCs). An untapped object storage vendor opportunity, for two main reasons.
1.Load balancing adds more value to the customer's existing application
Selling load balancers to existing object storage customers helps the customer optimize and get more value from their object storage application.
Managing large data volumes at scale is hard, and with a dedicated load balancer customers are assured of a seamless end user experience, high availability, and consistent data access. The load balancer provides intelligent routing and rerouting across the available storage nodes by health checking server status and determining directionality. This ensures that all requests are dealt with successfully. Without a load balancer, object storage applications rely on DNS round-robin, which has significant limitations and is rarely fit for purpose.
2.Load balancing increases the margins of the object storage vendor
Selling a load balancer to an existing object storage customer gives the object storage vendor the opportunity to tap into new margins, with commission being paid to them by the load balancing vendor for the introduction.
With customers increasingly looking to the application vendors themselves to solve their high availability issues, what's not to love about being able to sell a complimentary product to existing customers that solves more of their problems? The caveat here is that the potential margins are entirely dependent on the ADC vendor you choose...
What options do object storage vendors have when it comes to load balancing their applications?
Assuming an object storage vendor already understands the business case for load balancing, where does this leave them? What are their options? And which ADC is right for them? Well, it entirely depends on their go-to-market strategy.
Option 1.Recommend a specific load balancing vendor
This is pretty much the minimum object storage customers now expect.
Option 2. Build your own DIY load balancer
Some vendors choose to deploy free open source load balancing software on their own hardware and position it as their load balancer (e.g. NetApp). This can work well in some scenarios, however most open source software is not designed to deliver all of the capabilities of a mature, fully functioning load balancer.
Furthermore, a single open source load balancing solution, such as HAProxy, offers Layer 7 only. Layer 7 is application aware and great for many deployments, however for performance intensive and high throughput workloads it does compromise speed and performance. In these scenarios a Layer 4 configuration may be more appropriate. Similarly, open source software doesn't provide the multi-site capabilities required for backups such as Global Server Load Balancing (GSLB).
As if that wasn't enough, most open source software also requires deep technical expertise and the ability to configure and manage these solutions via the command line, meaning specialist skills are required to make this a viable option.
Caveat: It is important to note here that Loadbalancer.org are huge fans of open source, and our load balancers are built on a range of open source technologies. The difference though is that we have cherry-picked a variety of different technologies in order to be able to offer Layer 4, Layer 7, and GSLB, and combined these with an intuitive and easy to use WebGUI to produce a unique and fully functional load balancer.
Option 3. A co-branded partnership with a load balancing specialist
Some object storage vendors have opted to partner with a load balancing specialist and offer a co-branded ADC as part of their solution stack and as a storage vendor provided product. An example of this is Dell's partnership with Kemp to deliver the "ECS Connection Manager" product range. These are Kemp load balancers, which are co-branded with Dell to sell alongside Dell's ECS Object Storage range, in order to meet the customer demand for an integrated solution.
This offers customers the benefit of having a storage specialist deliver the storage solution, with load balancing specialists delivering the load balancing, giving the customer confidence that there is a formal partnership in place which includes documented deployment models and a level of support integration. Sounds like the best of all worlds right? So, what's not to like?
One potential drawback of this model is the commercial arrangement. We have seen several instances where the contractual model between the two respective vendors has resulted in what our partners have described as "over-priced" load balancers — putting deals at risk, and even resulting in one storage vendor losing business as these load balancers become prohibitively expensive.
Option 4. Meet in the channel
An alternative to the co-branded option is a somewhat less formal partnership where the storage and ADC vendors sell their own wares, usually in collaboration, with the final transaction coming via a common reseller or integrator. This might involve some agreed documentation and validation of the two solutions in order to provide the end customer with the assurance that they are purchasing a tried and tested combination of technologies, proven to work together.
This approach does address the end customer's desire for an integrated solution in some respects, however it is a compromise. The customer will have two different vendor organizations to liaise with for support purposes, and possibly during deployment (although deployment may need to be carried out by an integrator). Where this approach is adopted, it is important for the end customer to ensure that the two vendors have a track record of working closely together, and that they have validated their joint solutions, providing detailed deployment and support documentation.
Object storage vendors often favour this approach as a first step in moving towards a more formal partnership as it offers them an opportunity to work with an ADC vendor and test the working relationship, before fully committing their time and effort.
Option 5. Go full white label/OEM
This is where the object storage vendor integrates their own, unique load balancer, built on someone else's technology. The benefits of this are that both the technology and the commercials can be tailored, delivering an optimized object storage solution, as well as a series of aligned commercial opportunities. These then operate as one, seamless, highly available object storage solution for the end user.
Choosing the right load balancing partner

This is the bit where we say, pick us, right? Nope. Who you choose is of course totally up to you, and we're not conceited enough to say we're right for you when we don't know anything about your use case. Instead, here are some questions you might want to consider when pulling together your shortlist:
What functionality do you actually need? Often, there's no need to pay for an over-engineered solution, so be sure to right-size the load balancing component.
Can that functionality be tailored? Can the load balancing vendor provide the specific algorithm's and expertize needed to support object storage?
Will the load balancing vendor be able to offer 24/7, tierless support to support the solution?
What's your price point? And can you make a margin on top? What commercial flexibility and licensing models are on offer?
How flexible do you want the engagement model to be? Do you want to meet in the channel or go full OEM?
Conclusion
Application Delivery Controllers (ADCs) can help object storage vendors achieve a stronger market position. In the current climate, object storage vendors can benefit significantly from a load balancing partnership by selling more to their existing customers and creating tailored, integrated offerings that cater to the unique needs of their customers. But before object storage vendors can exploit those opportunities they need to first know what they need. Not what load balancing vendors tell them they need.

Share this post