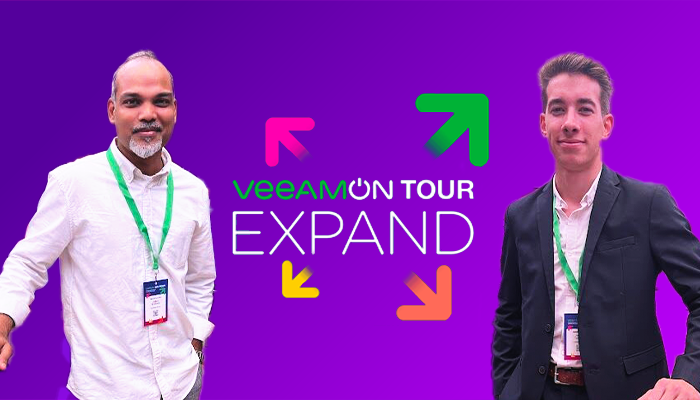 A Loadbalancer, object storage, and Veeam partner alliance for superior data protection
Published on

•

5 mins
Last updated

Attending Veeam OnTour 2023 got me thinking again about the 'power of partnerships' and what that statement really means in the context of object storage.  
Data protection versus data security
Data protection and storage security are of course closely related.
The primary purpose of data security is to prevent unauthorized users from accessing private information. This includes preventing attacks by malicious actors that might prevent data access, or alter data, making it unreadable or unreliable.
On the other hand, data protection is focused on making sure that data remains available and immutable — even after a cybersecurity attack, or system failure. This prevents data loss and facilitates data recovery.
Together they avoid data theft, and ensure uninterrupted operations.
How a storage partner alliance offers superior data protection
No matter who the object storage provider, partnerships play a huge role in data protection. No surprise then that at this event there were loads of object storage solutions that were designed to be integrated as a backup target for Veeam customers.
For example:
Scality
Cloudian
Dell
Zaradara
And many more..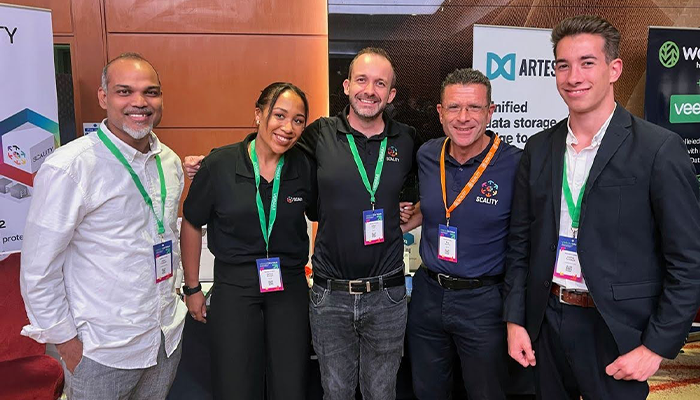 All of these object storage vendors recognize the value of partner alliances, including reduced complexity, guaranteed compatibility, and impenetrable backups.
Reduced complexity
No one business can possibly specialize in everything, no matter how hard they might try — even Microsoft. The storage space has been around for decades, but it seems to become increasingly complex, year on year; with multiple layers of protection, different tiers of storage, multiple vendors, and mixed platforms. How IT Teams, CIOs, and CSOs keep up I will never truly know...
Take Veeam as an example, Veeam offers a great backup and protection product for businesses of all sizes. But it doesn't work alone, it requires an object storage bucket to act as the backup target in order for the eco-system to work.
Therefore leveraging other partners who can fully validate and help configure a particular combination of software, leads not only to superior performance, but also a less complex solution for the end user.
Guaranteed compatibility
Object storage software might be compatible on an API level, but this alone does not guarantee performance.
Without a formal partner alliance that pre-validated the end-to-end solution, extensive performance tests would need to be carried out to ensure performance expectations could be adequately met.
For example, in a worst case scenario, mass object delete operations can undermine object storage availability and stability.
Impenetrable backups
Immutable backups not only offer data protection, but can also mitigate security incidents.
Data stored securely on an immutable backup system is fixed and unchangeable, meaning that it cannot be deleted or modified. This is especially important when it comes to ransomware as data on an immutable backup is impervious to infections.
But the immutable backups themselves require an additional component — a load balancer — to ensure they remain highly available, and quickly recoverable. Application Delivery Controllers (ADCs) also offers greater multi-site resilience by increasing the durability of these backups across multiple data centres, protecting the integrity of immutable data stored using cross-site replication. When a failure event occurs, no backup data is ingested into the local storage. Instead, the load balancer detects the failure and redirects traffic to the additional data centres meaning both storage and retrieval of data can continue, offering maximum redundancy.
Use case: Load balancing Cloudian with Veeam
Veeam
Veeam deliver backup, recovery and replication for all workloads, and were one of the first to develop backup software tailored to Virtual Machines.
Cloudian
Cloudian HyperStore serves as the on-prem storage target for Veeam backup and is a multi-tenant distributed storage platform that is 100% compatible with Amazon Web Services (AWS) S3 storage protocol. The S3 Object Lock on Cloudian HyperStore allows backup data copies to be made unchangeable for a set period of time, which prevents hacker encryption or deletion and ensures a clean data copy for reliable recovery.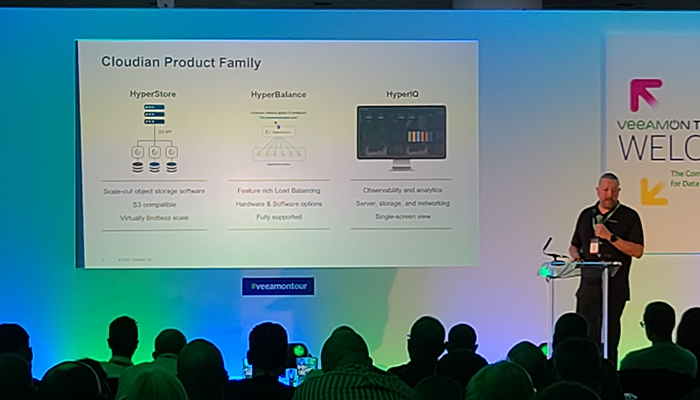 Loadbalancer
Loadbalancer sits in front of the Cloudian deployment and manages the traffic distribution between Veeam and Cloudian for high availability. This essential component brings resilience, guarantees uptime, and offers intelligent health monitoring and traffic distribution in the storage system.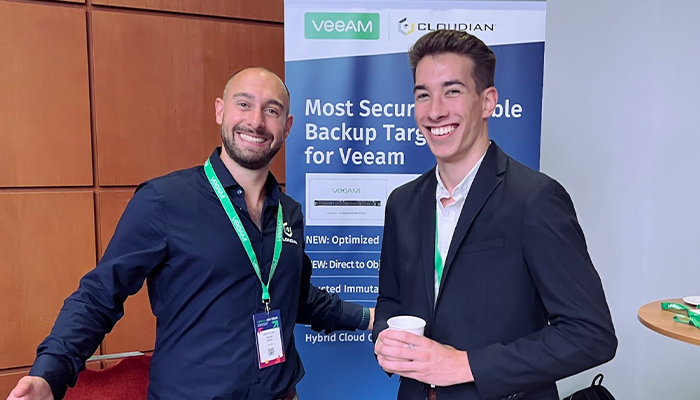 The combined architecture
The combined architecture contains both a primary backup repository as a performance tier and the S3 object storage as a capacity tier - the latter being Cloudian HyperStore.
The backup meta-data produced by Veeam is kept locally in the performance tier for intelligent search and browse capability. Then Veeam moves or copies the backup data from the performance tier to Cloudian HyperStore - an extension of the primary repository used for longer data retention periods and/or to store immutable backup copies.
Together, Cloudian and Veeam offer an integrated backup solution to help reduce the risk of data losses including those associated with ransomware. It is used by large organizations managing data growth at scale, with stringent RPO/RTO objectives and in need of protection from malicious attacks.
For more information on how the specific architecture of this storage alliance works so well in tandem, refer to our Solution Brief: Load balancing Cloudian with Veeam.
How do you find the right storage partner?
As one of our partners put it: storage solutions are unique. And so are the challenges they face. Whether it's changing customer needs, a more competitive market, or financial pressures, you need a partner with extensive storage experience that can flex their approach to address your key challenges, help you optimize your deployments, and maximize their returns.
If you're a storage partner, ready to reduce complexity, guarantee compatibility, and create impenetrable backups partner, why not find out more about our unique, tailored, load-balancing partner approach.
Conclusion
Partnerships play such a huge role in this market. It was amazing to see so many providers assisting one another to help provide not only the best customer experience but also the best storage solution available.
My conclusion? A formal alliance with other object storage software providers not only enhances one another's solutions, but also results in more effective data protection.
See you again next year at VeeamOnTour!
Share this post