Load balancing CensorNet USS Gateway

Useful resources
About CensorNet USS Gateway
CensorNet's web security products allows you to provide a safe Internet experience for all the people within your organization enabling you to control all aspects of web access quickly and effectively. Trusted by hundreds of organizations, from enterprise to small businesses to large schools and local government.
The web is an essential tool for any business and as more and more companies adopt cloud applications, which run primarily over the web, there has never been a more important time to ensure that security products don't hinder the speed and therefore the productivity gains of adopting the cloud for day to day operations.USS uses unique proxy-less technology to provide high levels of web security without compromising speed, by removing the need to route your web traffic via centralized data centers. This approach not only provides an unparalleled user experience but also removes some of the side effects of hosted proxies – such as masking your real IP address, incompatibility with services and ensures your sensitive web browsing data remains on your network.
Loadbalancer.org's web filter expertise helps us to guard against filter failure – ensuring uninterrupted service and excellent user experience.
Key benefits of load balancing
Implementing Loadbalancer.org appliances enables multiple CensorNet USS Gateway to be deployed in a cluster. This provides the following key benefits:
High-availability – If a Web Gateway fails, service is not interrupted
Maintenance – Web Gateways can easily be taken out of the cluster for maintenance
Performance – For additional performance simply add more Web Gateways to the cluster
How to load balance CensorNet USS Gateway
Layer 4 DR mode is used. In this mode, traffic from the client to the USS Gateway passes via the load balancer, return traffic passes directly back to the client which maximizes performance. Direct Routing mode works by changing the destination MAC address of the incoming packet on the fly which is very fast. This mode is transparent by default meaning that the USS Gateways see the real client IP address and not the IP address of the load balancer.
Source IP persistence is used. When enabled (the default setting for new layer 4 VIPs), clients connecting from the same source IP address within the persistence timeout period (the default is 5 minutes) will always be sent to the same USS Gateway.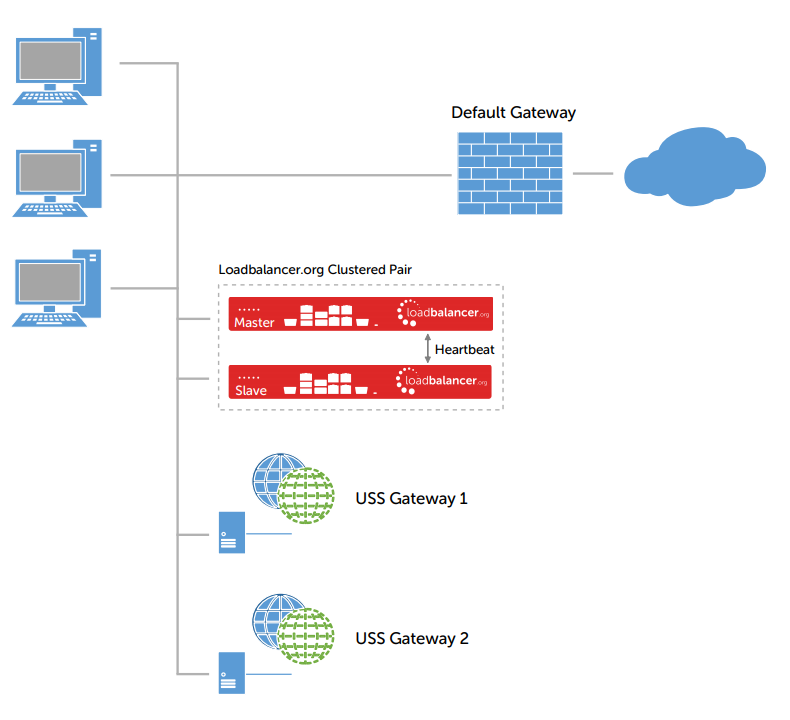 deployment guide
manual
case study