Load balancing Streaming Media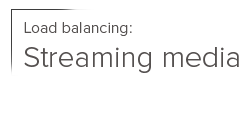 Useful resources
About Load balancing Streaming Media
Streaming media is video or audio content sent in compressed form over the Internet and played immediately, rather than being saved to the hard drive. With streaming media, a user does not have to wait to download a file to play it. Because the media is sent in a continuous stream of data it can play as it arrives. Users can pause, rewind or fast-forward, just as they could with a downloaded file, unless the content is being streamed live.
Key benefits of load balancing
Here are a few key benefits:
Makes it possible for users to take advantage of interactive applications like video search and personalized playlists.
Allows content deliverers to monitor what visitors are watching and how long they are watching it.
Provides efficient use of bandwidth because only the part of the file that's being transferred is the part that's being watched.
Provides the content creator with more control over his intellectual property because the video file is not stored on the viewer's computer. Once the video data is played, it is discarded by the media player.
Media is usually streamed from prerecorded files but can also be distributed as part of a live broadcast feed. In a live broadcast, the video signal is converted into a compressed digital signal and transmitted from a Web server as multicast, sending a single file to multiple users at the same time.
Streaming media is transmitted by a server application and received and displayed in real-time by a client application called a media player. A media player can be either an integral part of a browser, a plug-in, a separate program, or a dedicated device, such as an iPod. Frequently, video files come with embedded players. YouTube videos, for example, run in embedded Flash players.
Streaming media technologies have improved significantly since the 1990s, when delivery was typically uneven. However, the quality of streamed content is still dependent upon the user's connection speed.