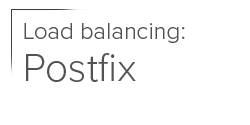 Load balancing Postfix
What is Postfix? It is Wietse Venema's mail server that started life at IBM research as an alternative to the widely-used Sendmail program. Now at Google, Wietse continues to support Postfix. Postfix attempts to be fast, easy to administer, and secure. The outside has a definite Sendmail-ish flavor, but the inside is completely different.
Recommended Product
Enterprise
R20
Offering performance without limitations, the best-value hardware load balancer on the market supports any environment. Licensed for unlimited throughput, bandwidth and features, upgrading is seamless if your requirements change down the line.