Load balancing Cloudian with Veeam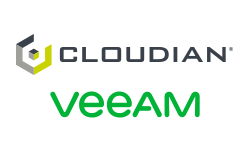 Useful resources
The Cloudian and Veeam Solution
Cloudian® and Veeam® offer an integrated backup solution to help reduce the risk of data losses including those associated with ransomware. It is used by large organizations managing data growth at scale, with stringent RPO/RTO objectives and in need of protection from malicious attacks.
While Cloudian and Veeam are both market leading providers, together they can only deliver the very best high availability solution when using Loadbalancer.org.
Key benefits of load balancing
The load balancer is an essential component for bringing resilience, guaranteeing uptime, intelligent health monitoring and traffic distribution in the storage system. Benefits include:
Highly available backups
Quicker recovery
Performance at scale
Multisite resilience
How to load balance Cloudian and Veeam
Loadbalancer.org sits in front of the Cloudian deployment and manages the traffic distribution between Veeam and Cloudian for high availability (HA). Read the solutions brief for more details.

deployment guide
manual
other