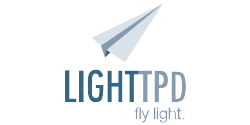 Load balancing lighttpd
Security, speed, compliance, and flexibility – all of these describe lighttpd (pron. lighty) which is rapidly redefining efficiency of a webserver; as it is designed and optimized for high performance environments. With a small memory footprint compared to other web-servers, effective management of the cpu-load, and advanced feature set (FastCGI, SCGI, Auth, Output-Compression, URL-Rewriting and many more) lighttpd is the perfect solution for every server that is suffering load problems. And best of all it's Open Source licensed under the revised BSD license.
Recommended Product
Enterprise
R20
Offering performance without limitations, the best-value hardware load balancer on the market supports any environment. Licensed for unlimited throughput, bandwidth and features, upgrading is seamless if your requirements change down the line.

Useful resources
Case study