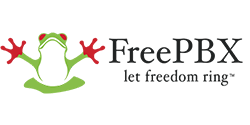 Load balancing FreePBX
FreePBX is a web-based open source GUI (graphical user interface) that controls and manages Asterisk (PBX), an open source communication server. FreePBX is licensed under the GNU General Public License (GPL), an open source license. FreePBX can be installed manually or as part of the pre-configured FreePBX Distro that includes the system OS, Asterisk, FreePBX GUI and assorted dependencies.
With over 1 million production systems worldwide and 20,000 new systems installed monthly, the FreePBX community continues to out-perform the industry's commercial efforts. The FreePBX ecosystem has developed over the past decade to be the most widely deployed open source PBX platform in use across the world. The openness of the project allows users, resellers, enthusiasts and Partners to utilize the FreePBX EcoSystem to build robust communications solutions that are powerful but at the same time easy to implement and support.
Recommended Product
Enterprise
R20
Offering performance without limitations, the best-value hardware load balancer on the market supports any environment. Licensed for unlimited throughput, bandwidth and features, upgrading is seamless if your requirements change down the line.