Andrew Zak shares first-hand experience of participating in the south coast's biggest hackathon held at the University of Portsmouth.
Hack Pompey is a Portsmouth based social hack event for people from all backgrounds and disciplines to come together, collaborate and build something awesome. The idea was conceived by two School of Computing undergraduates in 2014, and it has since then become a non-profit organization led by a team of six Portsmouth University graduates. This year, the event took place on the 2nd and 3rd of November at the Future Technologies Centre, and the theme was around sustainability. As sustainability impacts us at so many different levels, the idea was to truly grab it by the horns and wrestle with it to improve the lives of our future generations.
Hack Pompey is the first hackathon that I've ever attended. Therefore, I was super excited to see what it was all about.
Peter Statham, Andrew Howe and Joshua Vowles (a friend outside the office) were my partners in crime in this. Since it was the first time for all of us, coming up with an idea on how to hack sustainability was a bit of a challenge. Nonetheless, with some initial help from the event organizers, soon, we did manage to come up with an idea to get started. And since then, there was no looking back!
Together, we developed a route planner using Google's Maps API that shows the most economical and hence, the most sustainable method of transportation for any planned journey. While all of us contributed in adequate ways to complete the project, I think the tough part for me was having to present it in front of the audience as I'm far from being a confident public speaker. But now that I did it once, I feel more confident about taking up more such opportunities in the future.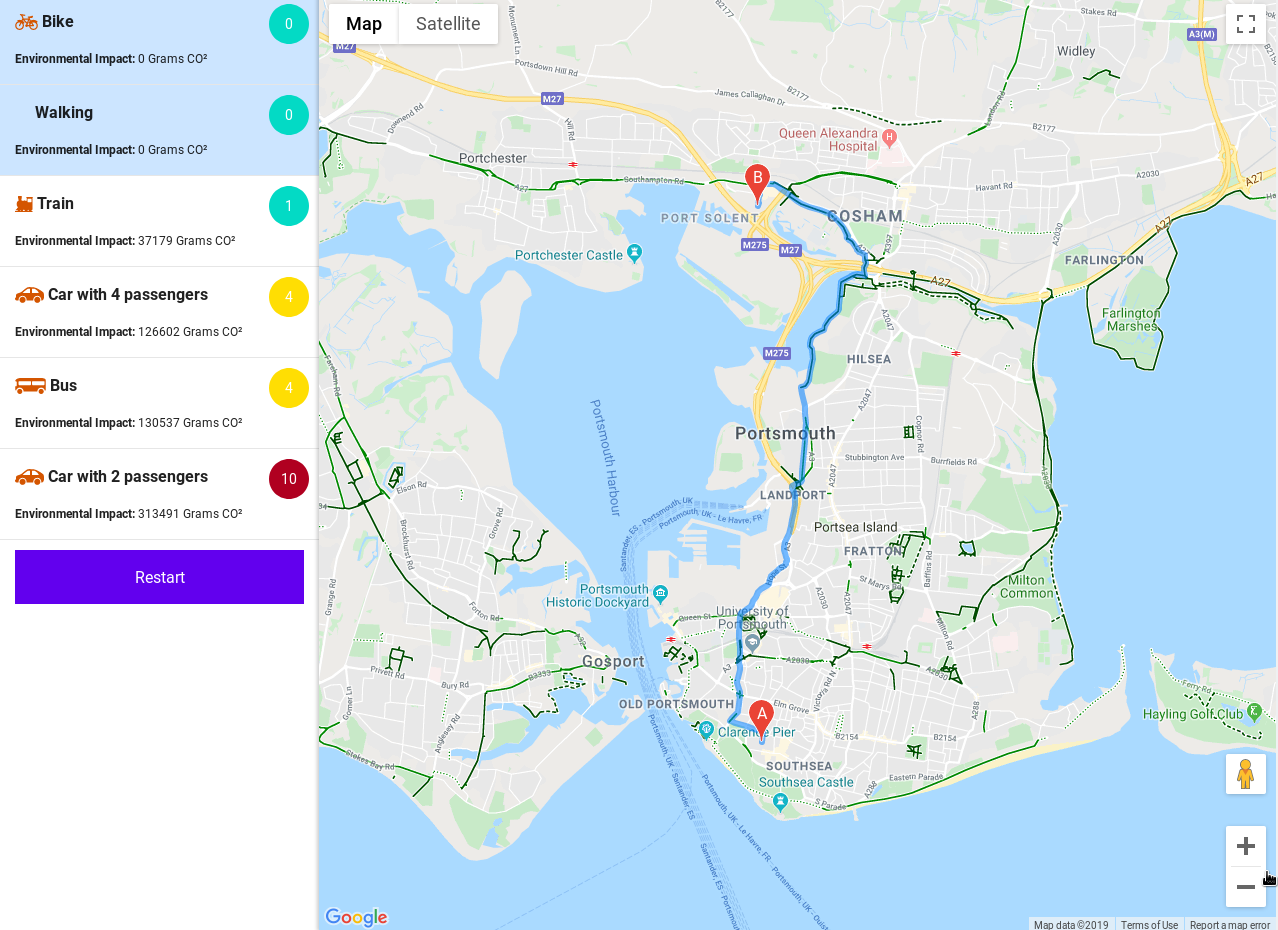 What I liked about the event was that all the projects were quite different in their approach to hacking sustainability. So honestly, there was no real comparison because everyone's projects were unique. However, being shamelessly biased, I do like to say that our project was one of the cooler ones (smiles). Besides, the other motivating factor was that the event organizers helped create a friendly atmosphere by always being available if anyone had questions or needed help. Then, to top it up, there was free food for all. Well, what more do you want (quips)!
Jokes apart, I feel that Hack Pompey is a nice platform for students and professionals alike.
It is a great place for anyone regardless of their experience or ability to take part in an event to not only contribute in their own ways, learning something new along the way but also to meet new people. The friendly, non-competitive environment makes it all the more inviting to anyone who may otherwise be intimidated to partake in events like these.
Loadbalancer.org was one of the proud sponsors of Hack Pompey 2019. As an employee of the company, it was nice to see our corporate branding at the event, highlighting the fact that we as a company strongly believe in helping the open-source community learn and experiment with new projects.
As a company that utilizes open-source software in our products, I feel it only makes sense that we give back to the community whether by taking part in events like these or contributing directly to various open-source projects.
Besides, as a business, especially one that is growing quite rapidly, I think it is quite important that we take part in these types of activities, not only to build our brand but also to share our message as a business.
Events like Hack Pompey are a fantastic opportunity to have fun and learn new things with like-minded people. Plus, they have free entry. While I am looking forward to attending it again next year, I would love to see more of my colleagues from Loadbalancer.org take part in it. With a larger team, I am sure we can accomplish a lot more and take our projects to the next level. And perhaps, I would also like to work on a more hackable theme than sustainability in the coming years (laughs).
Share this post