Why should you consider transferring your networked print services to the cloud?
Cloud printing is a hot topic right now – especially with organizations big and small embarking on the latest leg of their digital transformation journeys. And with migration to cloud-based solutions continuing to grow in popularity, Canon UK's Partner Channel Director, James Pittick has declared that "printing is no exception".
The process of maintaining, supporting, and securing Print environments can be complicated and expensive – even for organizations that have the staff and budget to devote to it. Primarily because the print ecosystem is complex, encompassing multiple elements such as device configuration, tracking, monitoring, management, driver installation, management software, MFP/MFD workflow, and application deployment.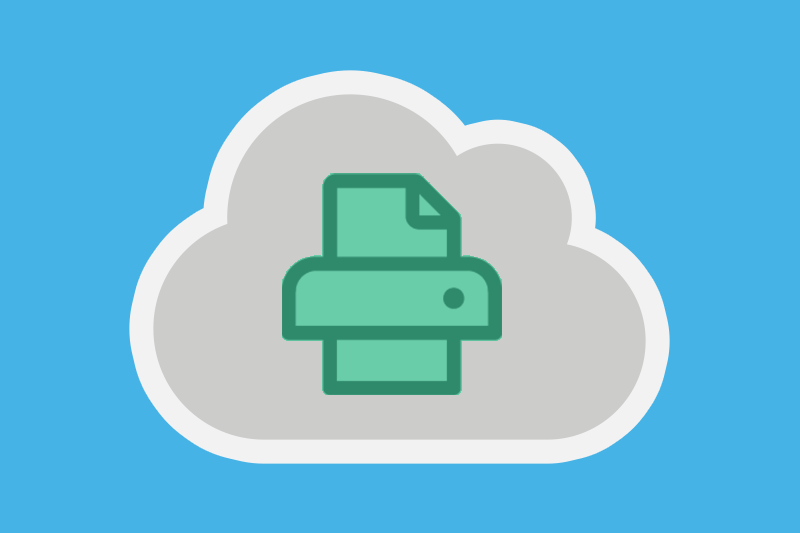 As all of these elements have traditionally been managed on-premise, they often cause organizations to run into multiple internal challenges with:
process ownership
MFP devices
dispersed hardware locations
print latency
disparate operating systems on mobile devices
For these reasons, organizations are now looking for a change – in the cloud.
The next big shift in enterprise print?
Cloud-enabled print wipes out the hassles involved with maintaining a server-based environment and delivers a simplified, streamlined print infrastructure that's secure and easy to manage. Shifting to a cloud platform can enhance security, scalability, and mobility by eliminating the need for organizations to maintain workplace platforms themselves – explaining why 73% of organizations expect to increase usage of cloud-based print management services in the next five years.
"If we take the cloud adoption of other business tools as a guide (accounting software, for a recent example), it's safe to say that the shift to print management in the cloud is inevitable," Jamie McClunie, Product Manager at PaperCut Software told Printer & IT Reseller's 'Future of Print' article. Also accelerating the shift to a cloud-native print infrastructure is the launch of products and solutions like Microsoft's Universal Print – a multi-tenant, cloud-based print service that enables cloud-only print solutions for organizations. Embracing the switch to Universal Print can bring with it several benefits for IT managers – right from terminating the need to manage print servers and install drivers, to enabling users to print from anywhere, when connected to the internet.
Overall, it'll help centralize the management of all printing within an organization, saving both time and energy for IT leads. Adam Bishop, of EveryonePrint suggests that "Microsoft Universal Print has brought the concept of cloud printing and a single print driver to the mainstream."
So: cloud opens the door for flexibility, resilience, and reliability. Meaning the move from on-premise print servers to the cloud enables customers to save on server costs and enjoy the benefits of cloud services, instead of dealing with the hassle of managing their own infrastructure.
Next, let's dig in to the key benefits of moving your print infrastructure to the cloud:
1. Simplicity, agility, and elasticity
If you're opening a new office, the cloud allows you to set up your print foundation in minutes. Cloud-based print management can be rapidly deployed – which lessens the burden of implementation and administration. Whether you're adding, moving, or changing printers, the cloud also enables you to update end-users instantly.
Furthermore, driving business agility is easier with a cloud-based print infrastructure. In a self-hosted print environment, organizations often need to commit to a server that speaks to specific requirements, and invest in a new one if their business grows. But cloud-based print servers can be auto-scaled without hassle – in line with your organization's business needs and usage.
2. Cost savings
Server maintenance is expensive. According to industry analysts, Quocirca, for a business with over 1,000 employees – maintaining one print server can cost more than $4,000 per year. Consequently, as the business grows its workforce, its printing demand is likely to increase – leading to increased print infrastructure costs. Besides, administering print infrastructure on a traditional server platform involves additional expenses.
Performing these tasks over and over, in multiple sites on legacy infrastructure is both inefficient and expensive. Instead, consuming print as a cloud-based service can drive significant savings for businesses within the first year of implementation as on-site print management tasks such as firmware updates, fleet management, and reporting can be outsourced to a third-party provider – making the costs more predictable when such services are hosted in the cloud. Moreover, cloud print services are generally based on a subscription model – allowing customers to only pay for what they consume.
3. Free-up IT teams from administrative burden
For most organizations, print isn't the core business! It's a commodity service and should be treated like one. But the majority of in-house IT teams are burdened by print – either in supporting print servers, multiple print drivers, or print queue management, thus diverting the team's focus away from business-enabling technology projects.
Moving your print infrastructure to the cloud eliminates the need to deploy and maintain a print server on-premise, as well as queues, drivers, and firmware management for the fleet – reducing the overall print services burden on IT.
4. Security and compliance management
In on-premise or self-hosted print management scenarios, organizations take the responsibility of managing the data and infrastructure in-house. Therefore, they always need to be on top of updates and patches (drivers, operating system, device firmware, etc.) – required to maintain a secure print environment. But because third parties handle cloud-based print management, as a business, you don't need to be as careful, or constantly patching. Security and compliance is taken care of by the provider – making your life a whole lot easier.
Other considerations
The evolution of scalable cloud-based offerings surely means that businesses of all sizes now have access to affordable enterprise platforms. But, while cloud-based print infrastructure has its benefits, there are also certain trade-offs with moving to the cloud that businesses should consider before making up their mind. For example, some organizations may not be comfortable with the idea of having less control over their print infrastructure – which happens when you move to a cloud-based environment.
Again, in industries where security and compliance are critical, organizations need to analyze carefully before shifting to print management in the cloud. Another important thing to evaluate is: what's being printed. Digitally printing huge amounts of files with large-sized graphic elements can cause high bandwidth usage – resulting in increased cost expenditure – depending on which cloud platform an organization decides to use.
For some scenarios, there are hybrid cloud solutions available in the market that combine cloud-based print management with networked servers to suit the specific needs of different businesses. So if you're an organization using the cloud for all or most of your other business needs – then why not printing?
Share this post