An efficient, resilient radiology workflow is crucial to delivering the best patient care. A complex and ever-changing environment, often with resource constraints, requires a considered approach.
What are the challenges with medical imaging systems?
Medical imaging encompasses many different modalities. X-ray, ultrasound, CT and MRI among others all have their own practices and procedures. Image quality and size is increasing from 2D images, several megabytes in size to 3D images, in gigabyte ranges.
Many patients need access to diagnostic imaging, each with different requirements. This demand creates a large number of transactions to process and fulfil orders.
Unpredictable traffic volume accounts for part of the issue. Hospital departments can be either full at one moment, or empty the next. Failure to account for surge in demand can cause significant delays.
Orders are delivered via a complex network of related but disparate systems. They are often in different physical locations, which presents a significant logistical challenge.
What really matters to you, and more importantly, your customers?
Fast response times, low failure rates and the ability to retrieve data from disparate sources. These factors rely on fast, redundant and scalable teleradiology architecture.
How do you solve the issues of availability and scalability?
Your systems can't fail when people need them the most. There are no excuses when it comes to people's lives and wellbeing.
So, how do you:
Deliver an efficient radiology workflow?
Meet the ever increasing storage demands of today's medical imaging technologies?
Ensure zero downtime?
Avoid slow and unresponsive services?
Medical staff don't have time to waste. If your systems can't accommodate moment-to-moment changes in load, things will grind to a halt. If one component in your system fails — does it have an impact on medical staff?
As demand grows, so does the ability to meet it, reducing delivery times and keeping systems online. Effective load balancing will make things fast and reliable, as demonstrated in the infographic below.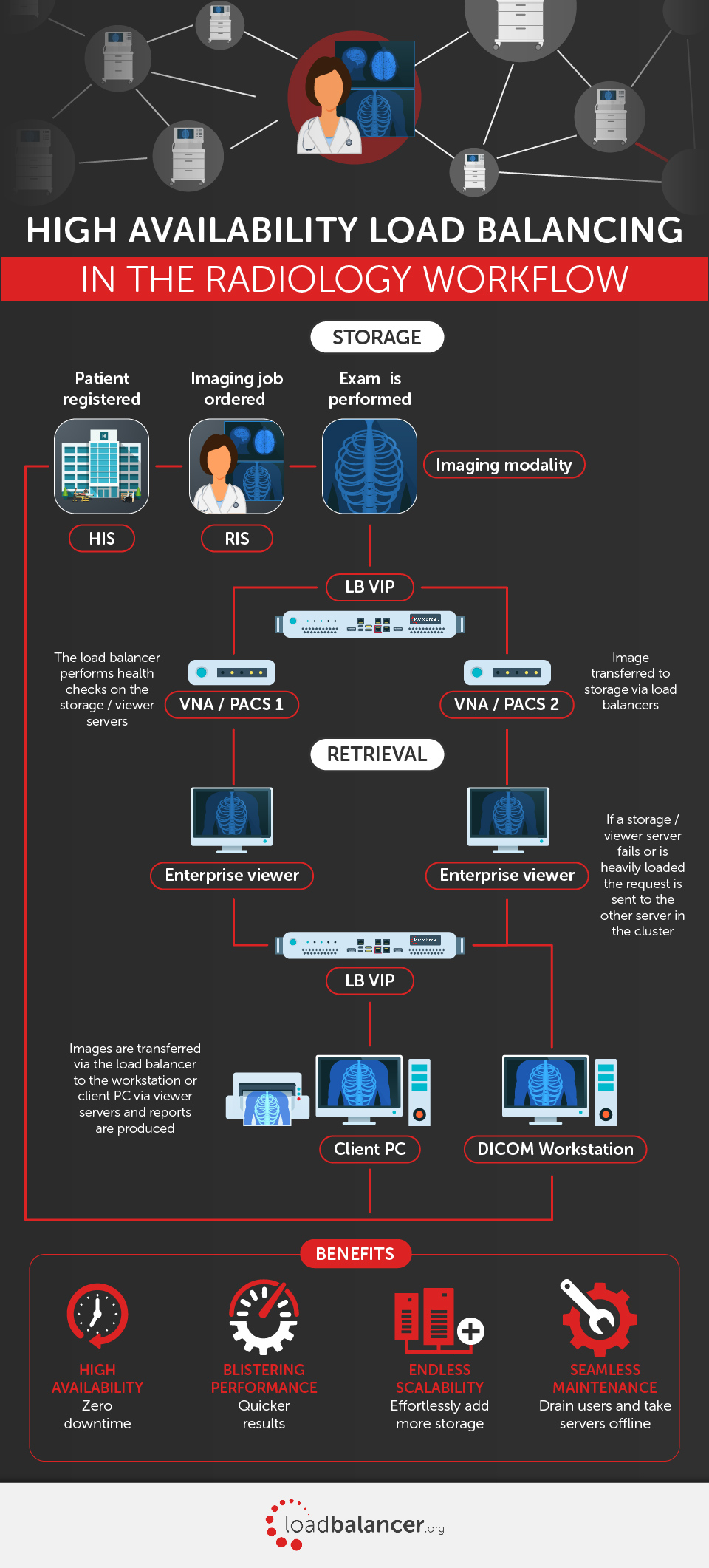 Who is responsible for your quality of service?
Many healthcare vendors choose to leave the load balancing decision to the customer.
We understand why, but:
Don't they just want to know it won't break?
How do they update system without downtime?
What happens in the event of a failure?
Who handles problems?
Loadbalancer.org appliances guarantee zero downtime and greatest resource efficiency. From PACS, RIS to EMR and HIS, they all need the same level of interoperability and performance at scale, whilst maintaining 100% uptime.
Medical staff can spend time helping patients and not waiting for results.
Why not sell your solution with high-availability built in?
We work closely with you and your product team. We are committed to test, document and validate your turnkey high-availability solution. We also produce comprehensive deployment guides, resulting in smooth deployments and excellent support.
So that you:
No longer get the blame — When the customer breaks your product.
Don't spend ages helping your customers configure their own network.
Can easily perform maintenance and updates without downtime.
Get awesome support from our team — specifically trained on your product.
Use a specific protocol? Whether you use DICOM, XDS, HL7 or something else, we'll make it work.
The diagram below shows a highly available system that utilizes multiple system components and load balancing: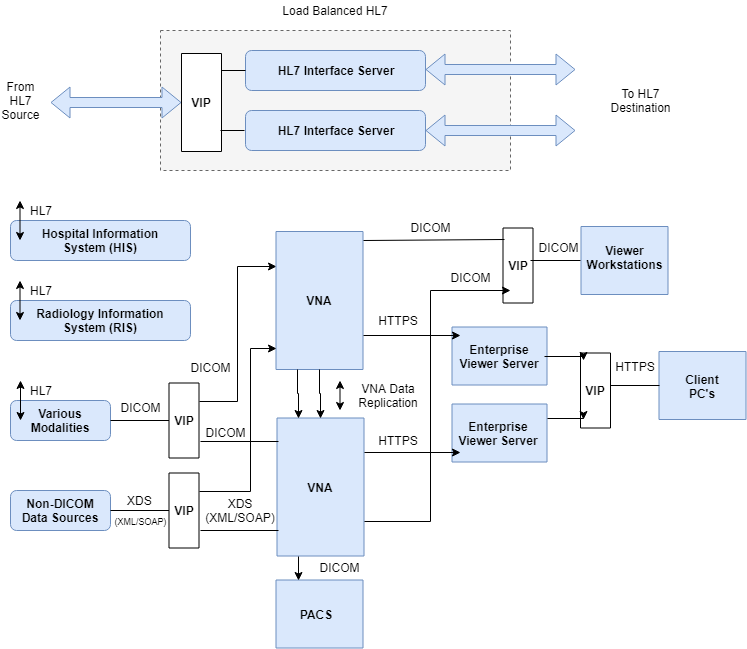 If using DICOM, for example, we recommend load balancing in layer 4 DR mode.
Layer 4 DR routes inbound traffic around the load balancer and replies are sent directly to the client. By managing the traffic in this way, you can increase throughput by avoiding using the load balancer as a forwarder.
Whereas XDS may use Layer 4 NAT mode and HL7 May require a Layer 7 based approach. No matter what the approach, we always recommend the best fit.
If your product requires a specific health check, we'll include it.
For example we are the only vendor with a native DICOM health check.
This means you can deliver a highly capable, hassle free solution that just works.
Do you worry about managing costs?
Healthcare budget constraints are often the driver for the quality and standard of care. We've talked to vendors that worry about mounting extra costs in an enterprise imaging implementation.
Achieving this level of enhanced capability doesn't have to be expensive. You can deliver a redundant load balanced solution for less than $10,000.
Healthcare providers are balking at the prices of load balancing solutions from the industry leaders. At more than 10x the cost of Loadbalancer.org solutions, the choice is simple.
Maintenance downtime is another cost factor. By facilitating seamless maintenance, you can mitigate the cost associated with being offline for extended periods.
You need a proven solution you can trust
We understand what your customers' needs are because we have a proven track record.
Hundreds of hospitals and clinics worldwide use Loadbalancer.org to keep their systems running.
You can't trust anyone to ensure healthcare systems unless you know they'll deliver. Enterprise imaging vendors such as Canon, Siemens, Carestream, Hologic, Ricoh and Agfa depend on us for our reliability.
Here's what DelftDi had to say:
"Doctors use our medical imaging systems to make accurate diagnoses and help save lives. We recommend Loadbalancer.org solutions because they have the stability and performance to keep these vital applications available 24/7 "
Rens Koster, Team Leader, Healthcare IT, DelftDI - A Canon company
Consultancy led support from the load balancer experts
We understand your product and the demands of your customers. As experts experienced in this market and by focusing on your application, we know the challenges you face.
Our ethos is one of collaboration. Our technical architects work with your organization to deliver an approved solution that adds value and cultivates a technology aligned partnership.
We will help to design and simplify your architecture allowing you direct access to our team of engineers via online chat, email or phone.
Our approach is tailored and we take the time to understand your products and applications inside out by setting up test environments. We test, validate and document the deployment to deliver consistency and ensure zero downtime and effortless maintenance.
A fully integrated solution allows peace of mind that you can deliver standardized, highly available and painless deployments to your customers - guaranteeing the uptime and performance of your application, every single time.
So, if you want a tried and tested solution and want to see how our products work, simply download our free trial by clicking here. Don't forget to access free 24/7 support during your 30 day trial.
Short on time? View our online demo here.