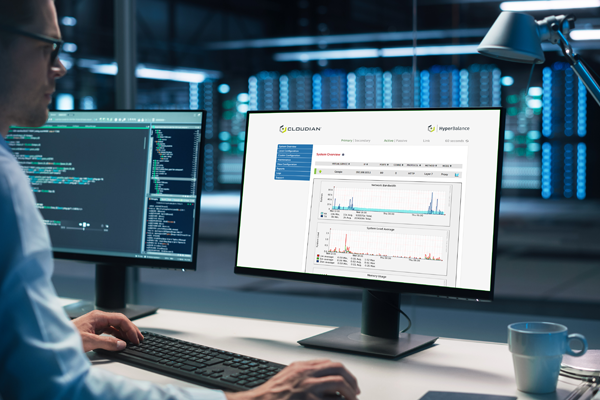 Loadbalancer creates a tailored load balancer for Cloudian to take their object storage solutions to the next level
Storage
Published on

•

3 mins
Last updated
The tailored HyperBalance load balancer will optimize Cloudian's object storage applications, allowing them to seamlessly deliver the high availability their customers demand.  
Cloudian recently announced its new HyperBalance product, an enterprise load balancer that intelligently manages application traffic across storage nodes to provide optimal, consistent performance.
Based on proven technology from Loadbalancer.org, HyperBalance is tightly integrated with Cloudian's HyperStore Object Storage platform and addresses a key challenge of managing large data volumes at scale. This dedicated, tailored Loadbalancer.org solution will provide Cloudian customers with a seamless end user experience, guaranteed uptime, and consistent data access.
We caught up with Cloudian's VP of Global System Engineering, Neil Stobart, to discuss in detail how our tailored load balancer will help them optimize their object storage solution:
Why do object storage applications benefit from load balancing?
High availability
A typical use case for a load balancer is where you need to distribute across multiple servers but you want to simplify that for the end user interaction. In other words, you want there to be either a single IP address or one name that you're writing to (with the clever things going on in the background, unbeknownst to the user).
Object storage is exactly the same as any other high-performance application, with Cloudian's applications essentially consisting of a Linux cluster - a scale-out database that can go across 4,000 nodes in a single cluster. It just so happens their service is data management and storage. The need for load balancing, therefore, always exists for any high-performance application, regardless of whether it's a compute cluster or data storage.
Within Cloudian's own software, they have the functionality to distribute the data across all the nodes and keep it balanced, but when it comes to accessing it, this is where the load balancer comes into its own.
As Neil Stobart, VP Global System Engineering at Cloudian, explained:
"Using a load balancer means you can make smarter decisions based on more information about the infrastructure, that the object storage application on its own doesn't see".
The load balancer ensures the users always have access — even during a failure event — meaning the data remains secure.  
Data accessibility
Global Server Load Balancing (GSLB) offers allows Cloudian to failover entire data centers over to other data centers. Even though Cloudian nodes do replicate across data centers, load balancers can identify the best data center to use for the end user, based on their location. This form of control is called typology weighted load balancing.
Healthchecks
Load balancers can also check backend Cloudian nodes and identify if there's a hardware failure, or if something's gone wrong. Rather than have traffic go into that failing node (which would happen without a load balancer), the load balancer is able to redirect that traffic to avoid request failures, simultaneously updating the GSLB weighted topology algorithm.
Why a tailored load balancer from Loadbalancer.org?
Loadbalancer.org brought simplicity to Cloudian's solution. We were able to adjust to their specific needs, rather than build a completely green product from scratch. This enabled our product to be adjusted to provide them with:
A user interface tailored to the needs of their product, with custom branding: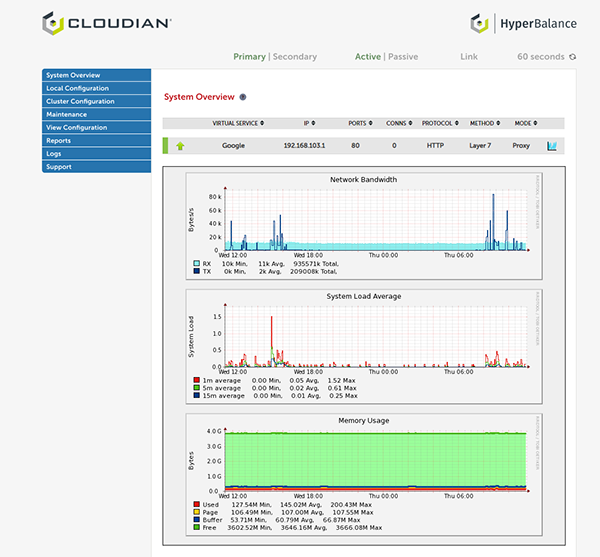 Automated implementation
Improved security
Aligned development roadmaps
Bespoke load balancing features
Flexible licensing and SLAs
Bespoke training and certification
Custom support and service channels
Our tailored approach ensured that Cloudian's customers could receive a rock-solid version of their product right out of the box, that was simple to deploy and maintain. This ultimately added value to their offering and optimized their solution, without the hefty price tag of other load balancing vendors.
As our Co-Founder and CEO, Malcolm Turnbull, explained:
"Our tailored load balancers have freed up Cloudian to focus on their core object storage product offering."
For more on how we've helped other Technology Providers guarantee high performance and take their solutions to the next level, check out this blog: Tailoring - the modern way to make your product indestructible.
Share this post