How does load balancing Exchange 2019 differ from load balancing previous versions of Microsoft's mailbox server? We've assembled everything you need to know.
Microsoft Exchange 2019 upholds the legacy of Exchange 2016, 2013 (and numerous earlier versions) by continuing to be the ubiquitous mail server and calendaring service of choice for small, medium and enterprise-level organizations the world over – despite a very public (and quickly resolved) security blip at the start of 2021.
Microsoft's Windows/Office ecosystem remains as popular/inescapable as it ever was – and tellingly, as of 2020, Exchange is now deployed more in the cloud than on-premise according to Statista.
But what does 2019 add, change or improve – and how is your load balancer affected?
How Exchange 2019 differs to 2016 (and 2013)
Microsoft has documented the main changes to Exchange 2019 compared to 2016. The headlines are related to architectural, security and performance improvements. Also, a few features have been discontinued from 2016 and 2013. There are also some light end-user enhancements. Check out Techgenix.com's comprehensive, independent summary of all of the changes between Exchange 2019 and 2016.
Fortunately, in load balancing terms not much has changed between these versions
Why (and how to) load balance Exchange 2019?
If you need to add a layer of high availability, resilience or scalability to Exchange, Microsoft recommends using a load balancer. Both current and legacy versions of Exchange support load balancing, with a different approach and recommendations dependent on the version you are running. Check out our Microsoft Exchange application page for more on how to load balance current and legacy versions – as well as more on the benefits load balancing brings.
How to load balance Microsoft Exchange
Load balancing Exchange 2019 essentially requires the same configuration as load balancing Exchange 2016.
There is a single building block that provides the client access services and the high availability architecture necessary for any enterprise messaging environment. High availability is provided by implementing multiple Mailbox Servers, configuring a Database Availability Group (DAG) and deploying a load balancer.
A DAG is a group of up to 16 Mailbox Servers with 100 active and passive databases. It provides automatic database level recovery from failures that affect individual servers or databases. As with Exchange 2016, Exchange 2019 does not require session affinity at the load balancing layer.
Port Requirements
The following table shows the port list that must be load balanced. Some services such as IMAP4 or POP3 may not be required in your environment.
| TCP Port | Role | Uses |
| --- | --- | --- |
| 25 | MBOX | Inbound SMTP |
| 110 | MBOX | POP3 clients |
| 143 | MBOX | IMAP4 clients |
| 443 | MBOX | HTTPS (Outlook on the Web, AutoDiscovery, Web Services, ActiveSync, MAPI over HTTP, RPC over HTTP – a.k.a. Outlook Anywhere, Offline Address Book, Exchange Administration Center) |
| 993 | MBOX | Secure IMAP4 clients |
| 995 | MBOX | Secure POP3 clients |
Deployment concept
Exchange 2019 can be deployed in various ways – in the example below, two servers are used. Each server hosts the Mailbox role in a DAG configuration. This provides high availability and uses a minimum number of Exchange Servers. Clients then connect to the Virtual Services (VIPs) on the load balancer rather than connecting directly to one of the Exchange servers. These connections are then load balanced across the Exchange servers to distribute the load according to the load balancing algorithm selected.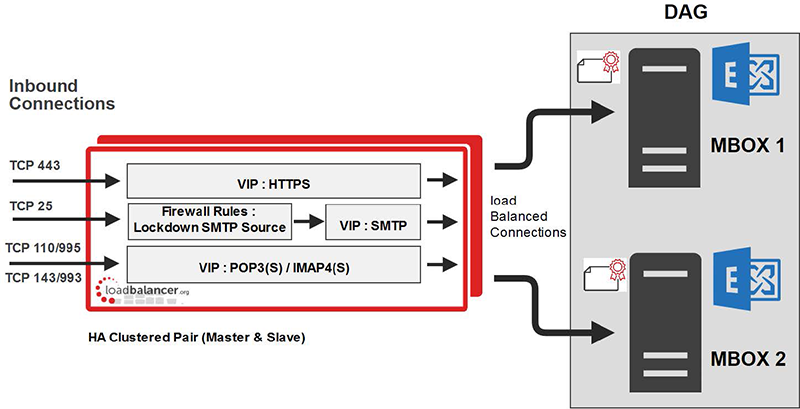 Share this post