Useful resources
About Microsoft Exchange
Microsoft Exchange Server, the mainstay of Microsoft's Unified Communications solution, has grown beyond being regarded as the standard in business email into a fully-fledged communications tool. Exchange 2019 is Microsoft's latest enterprise-level messaging and collaboration server – its architecture is very similar to Exchange 2016.
Key benefits of load balancing
Loadbalancer.org specializes in providing application delivery controllers (ADC) and load balancing solutions for multiple Microsoft applications – load balancing Exchange delivers resilience, high availability and scalability.
How to load balance Microsoft Exchange
To implement highly available and scalable deployments of Microsoft Exchange Server, Microsoft recommends using a load balancer to distribute the traffic among multiple Exchange servers. Both current and legacy versions of Exchange support load balancing, with a different approach and recommendations dependent on the version you are running.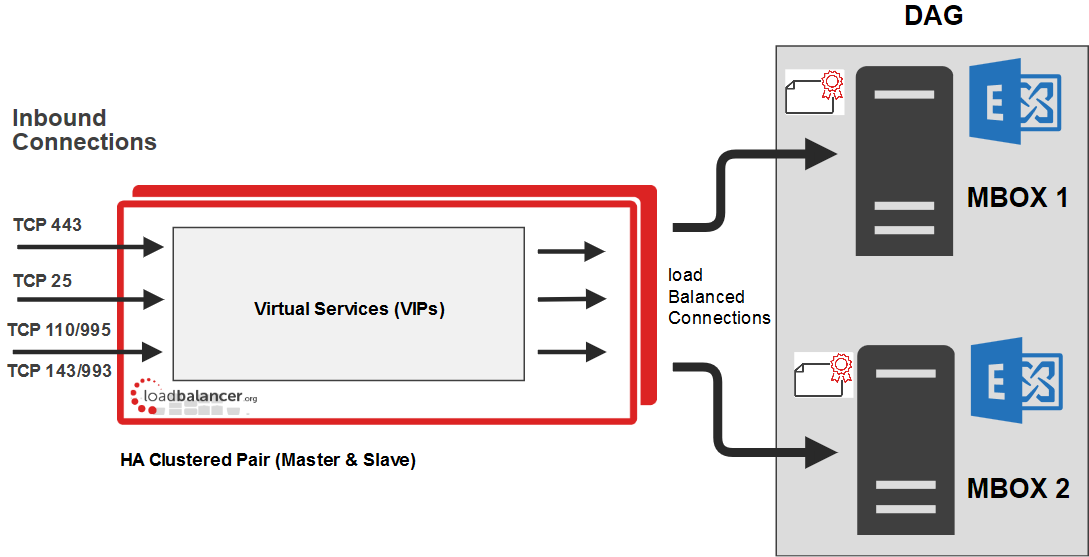 Example Exchange 2019 / 2016 deployment using a minimal 2 server setup.
The load balancer can be deployed in 4 fundamental ways: Layer 4 DR mode, Layer 4 NAT mode, Layer 4 SNAT mode and Layer 7 SNAT mode.
For Exchange 2019, 2016 or 2010 we recommend using Layer 7 SNAT mode for simplicity
For Exchange 2013, where possible we recommend Layer 4 Direct Routing (DR) mode
Exchange 2019, 2016 and 2013 Protocol Table
| | | | |
| --- | --- | --- | --- |
| Protocol | Role | Ports | Load balancing methods |
| TCP | CAS | 443 | Used for Outlook on the Web, AutoDiscovery, Web Services, ActiveSync, Outlook Anywhere, Offline Address Book, Exchange Administration Center). Layer 4 DR (Direct Routing – Ultra-fast, local server based load balancing) Layer 7 SNAT |
| TCP | CAS | 25 | Used for Inbound SMTP Layer 4 DR (Direct Routing – Ultra-fast, local server based load balancing) Layer 7 SNAT (Flexible, URL switching and cookie insertion capabilities) |
| TCP | CAS | 110,995,143,993 | Used for POP3 clients Used for IMAP4 clients Layer 4 DR (Direct Routing – Ultra-fast, local server based load balancing) Layer 7 SNAT (Flexible, URL switching and cookie insertion capabilities) |
Exchange 2010 Protocol Table
| | | | |
| --- | --- | --- | --- |
| Protocol | Role | Ports | Load balancing methods |
| TCP | CAS | 80 | Layer 7 SNAT |
| TCP | CAS | 443 | Layer 7 SNAT |
| TCP | HT | 25 | Used for the HT (Hub Transport) role Layer 4 DR (Direct Routing – Ultra-fast, local server based load balancing) Layer 4 NAT (Fast Load balancing throughput) Layer 7 SNAT (Flexible, URL switching and cookie insertion capabilities) |
| TCP | CAS | 110, 995, 143, 993, 135, 60201 | Used for POP3 clients Used for IMAP4 clients RPC endpoint mapper Static port for Exchange address book service Layer 7 SNAT |
guides
manual
case studies
blogs
other