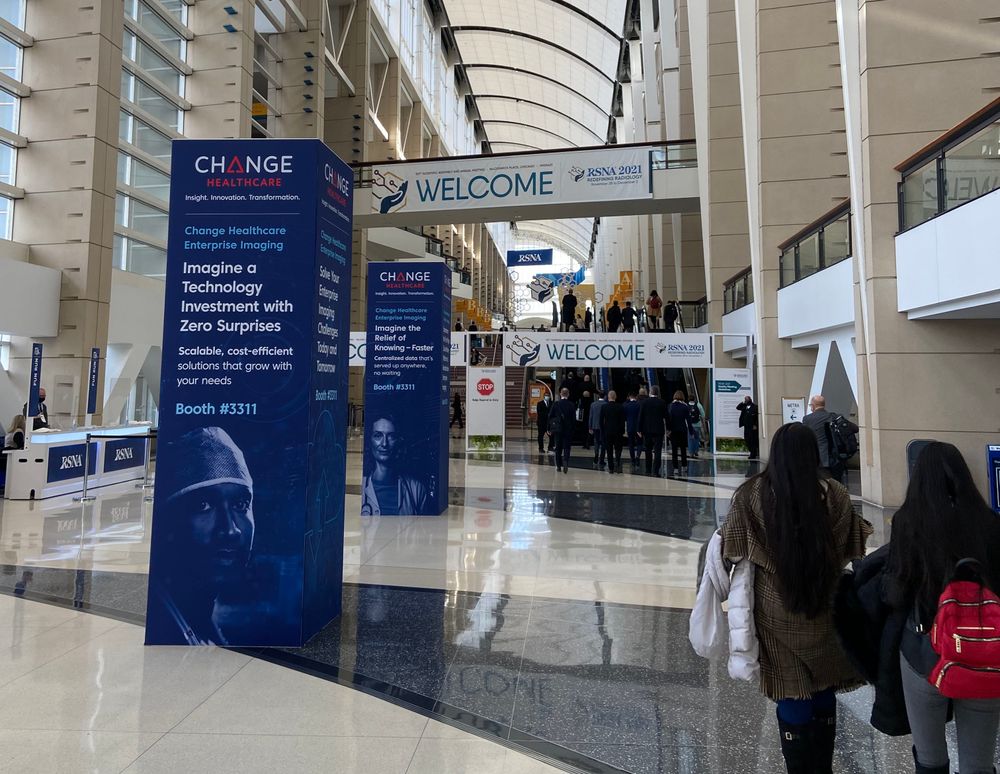 RSNA 2021 - this year's innovation: tailored high availability
High Availability
Published on

•

6 mins
Last updated
Another year, another RSNA, albeit an understandably different one this year. Fewer exhibitors, far fewer attendees, and lots more facemasks. Despite this, some things haven't changed. Agfa still offers the best coffee in Chicago. Timothy O'Toole's still serves up the best post-show 'refreshments'. And Enterprise Imaging vendors are still experiencing similar pains.
The innovation on everyone's lips at McCormick Place in 2019, predominantly related to Artificial Intelligence. In some way shape or form, AI was going to solve all of our problems — whilst all of us were blissfully unaware of the madness that was about to ensue.
Fast forward to a post-Covid-world (if we can call it that) and in many ways the pandemic has helped us all go back to basics and appreciate what's important in life - and it seemed this year even the highly innovative leaders in healthcare were taking a step back and thinking about what's fundamentally important as well.
With a general shift towards selling software only, it's no surprise that many imaging vendors are rethinking how they work with third-party applications.
Business leaders might not want to get involved in reselling third-party components, but the customer just wants to know that the damn thing won't break!
And with the trend towards a managed service approach, product managers just need a partner they can trust to keep their applications running 24/7. The one thing that everyone agrees on is that Enterprise Imaging needs to be highly available and highly scalable — and to achieve this load balancing is required.
Nobody gets fired for buying F5
You may recall the highly effective marketing campaign of old from IBM implying that buying anything else could get you fired. Well, it seems a similar mindset still exists today with F5 in healthcare IT. Surely, by reselling F5 or pointing your customers towards them you can't go wrong?
Well, let's just think about that...
F5 offers the most advanced application delivery technology on the planet, but in the world of Enterprise Imaging, it's like using a sledgehammer to crack a nut.
Yes, it will do everything you need it to - but it'll also do a million things you don't. Wouldn't it be better to have a solution that only did what you need it to? One that doesn't require qualified consultants to make the most basic changes? One that is tailored to your application? It was these conversations that really got the cogs moving at this year's RSNA.
Certainly, what you DON'T need from a load balancer is:
Performance - OK, obviously performance is important, especially when supporting 600+ bed facilities, but it's a non-issue for any respectable load balancer vendor. With mid-range models from affordable vendors supporting 10m+ studies/year, it was surprising to hear some software architects still asking about this at RSNA.
Features - Can it do all this funky network routing stuff that I'll never need and will add obscene complexity? Come on... load balancing medical imaging systems is child's play and any vendor who tries to tell you otherwise is leading you up the garden path. Yes, things like a DICOM toolkit are nice-to-have additions, but any major load balancer vendor should be able to easily support all Enterprise Imaging systems.
So what do enterprise imaging vendors actually need?
It's quite simple really — to focus on selling their software, and let someone else worry about:
Simplified deployment
Simplified support
Simplified migration
Simplified updates
A market-leading highly complex load balancer might not get you fired, but it won't help you achieve the above either.
A tailored approach to achieving high availability
We've been focused on the medical imaging world for more than a decade.
But the last couple of years has seen our tailored approach seriously start to disrupt the status quo, as software architects, product managers, and business leaders realize there's another way.
And it was at RSNA 2021 where this message truly resonated.
Rather than being given a prescribed product list, price book, or support framework, wouldn't it be nicer to work with a strategic partner who'll entirely shape all aspects of the relationship to suit you? An organization that effectively becomes your high availability division, with nothing off the table.
Since the last face-to-face RSNA in 2019, we've been working closely with our healthcare partners on various projects.  And here are some examples of how our business model focuses on a tailored approach to high availability and scalability.
Tailoring example: A custom interface that ONLY does what your application needs
This often shocks new partners who aren't familiar with the way we work, but rather than giving you a product full of bells and whistles, we prefer to take the time to deeply understand the requirements of your application and then strip out everything from the GUI that you'll never need.
At RSNA 2019 I seem to remember a partner telling me they wanted to make the load balancer interface so simple that their 2-year old son could work it. As the dad of a 2-year-old myself, I'm not sure that's possible, but what we've delivered is pretty damn close:
An interface so simple that any network admin can easily deploy and maintain the load balancer (and it's branded to align with the vendor's PACS system too, just to give the customer that extra warm fuzzy feeling).
Tailoring example: Removing unwanted modules to improve security
Removing features makes the product easier to use, but more importantly, if you don't need specific modules e.g. WAF/VPN/IDS then you are massively reducing the attack plane for hackers.
It also means you reduce the number of security updates and therefore your maintenance costs. In fact, one of our partners decided to remove the entire web interface, leaving just the secure API exposed.
Tailoring example: Automated deployment irrespective of hospital size
When we spoke to a couple of our imaging partners about the time taken to configure the load balancer in 3m+ studies per year environments, we realized there was more we could be doing. So our development team worked closely with our partners to come up with a roadmap for automating installation — effectively moving from the error-prone process of manually entering IP addresses for hours into a simple one click deployment.
Tailoring example: Centralized management of software updates
A couple of our partners have experienced serious pains with F5's recent security vulnerabilities. I spoke with the product manager of a major radiology vendor earlier this year who was at the end of his tether. Having spent many months updating hundreds of F5 instances due to a widely publicized security vulnerability, F5 only went and announced that another vulnerability had been found — and he was effectively back to square one.
We sat down and looked at the options, which culminated in us building a centralized management tool, enabling them to push updates to an unlimited number of load balancer instances as and when they wish.
Interestingly, we have also agreed to support and maintain a specific software version for a minimum of 7 years with this partner - but it's nice to know updates will be simple if they ever want them!
One interesting comment from a project manager was that: "Loadbalancer.org's centralized deployment system was designed to get the job done — whereas competitors like AVI Networks were designed to make sure the licenses were monitored and paid for!"
Tailoring example: Seamless migration of 800+ F5 installs
Once a new partner has made the decision to shift their corporate standard from F5 to us, the next question we usually get is, how quickly can you do this?! Thankfully, this has been a nice problem that we've had to figure out a couple of times over the last year or two.
Depending on available resources and just how 'seamless' this needs to be, determines how we go about it. But there are various application-specific tools our development team have built to make this simple. One partner wanted things done so quickly that we recruited and trained 20 contractors for a global rollout of a tailored version of Loadbalancer.org to replace 300 incumbent F5s in three months.
Tailoring example: Full software integration from the ground up
With the majority of our healthcare partners, we come in at the eleventh hour and help them fix specific and current problems. So it was quite refreshing when a market-leading mammography vendor asked us to work with them from the inception of a new product to help them build a bullet-proof breast diagnostic reading solution.
This was a major project which involved tailored commercials, logistics, branding, and obviously the software functionality itself — all of which was made possible by aligning development roadmaps to ensure any release of the load balancer software was absolutely in sync with the partner's product launch and subsequent ongoing roadmap.
Endless more possibilities
I'm not sure what's changed over the last couple of years, but when talking to new and existing partners at RSNA 2021 our tailored approach to helping organizations achieve high availability and scalability really hit home.
Talking through some of the above examples got people deeply thinking about what's possible from a load balancer partner — which prompted conversations around custom support frameworks, licensing on a study-per-year basis, DICOM routing & hardware subscriptions. All projects that we're excited to explore in 2022!
RSNA is all about discovering the latest innovations reshaping the world of radiology. Whilst AI has undoubtedly had a seismic impact on what we think is possible, it feels like the Covid-19 pandemic has helped everyone go back to basics and focus on the simple things in life. And perhaps this year's innovation relates exactly to that. Tailored high availability helps Enterprise Imaging vendors focus on what they do best — by letting a strategic partner simplify the rollout, support, and maintenance of their product suite.
Share this post