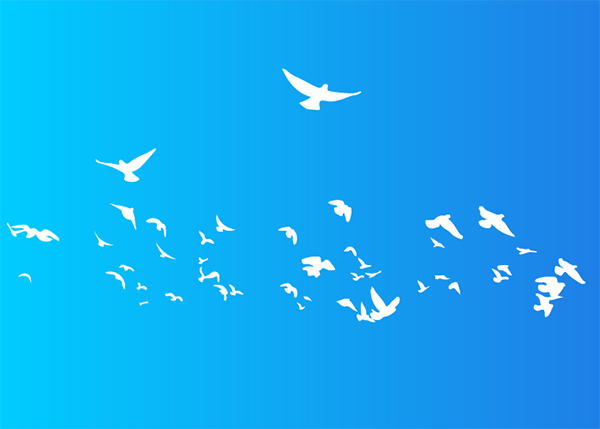 How Loadbalancer.org helped this customer migrate seamlessly from Snapt Nova
Comparisons
Published on

•

6 mins
Last updated
Working with this Snapt customer to support them with the urgent migration of all their critical applications.
With the sudden demise of Snapt, this customer needed to find an alternative ADC vendor by October 31st — or risk being out of contract. This would have resulted in a substantial security, support, and maintenance threat to their business-critical systems.
And of course, being an Insurance Provider, this customer knew a lot about risk. With their applications relied upon by more than 850 users 24/7, serving thousands of customers, the need to shift seamlessly and safely to a sustainable alternative was paramount.
However, the speed of the unplanned migration brought a number of major challenges:
They needed a solution that could easily be configured and implemented by their in-house IT team.
The new vendor needed a sustainable and cost-effective business model i.e. to have the scale and stability to not be at financial risk.
The new vendor needed a mature, high performance, and reliable solution.
And, above all, they needed professional, top-notch migration support.
As Snapt's preferred migration partner, Loadbalancer.org was their first port of call.
The use case: the need for clever, not complex, load balancers
The goal of the project was to seamlessly migrate their eight Snapt Nova ADC licenses, over to Loadbalancer.org's VA Enterprise 1G.
We achieved this by guiding them step-by-step through the process, in the safest and most effective way possible.
Instant access — They were able to immediately set up a free trial.
Implementation — With the support of our technical support team, they were then able to transfer over the HAProxy configuration file from Snapt Nova to the Loadbalancer.org Enterprise ADC in less than 30 minutes.
Technical support — Our tierless support team remain available 24/7 to help them with any subsequent questions.
The final outcome: seamlessly migrated Snapt Nova licenses
Loadbalancer.org's load balancing solution for this Insurance Provider has provided them with the following:
High availability: The Insurance Provider was able to avoid costly downtime, allowing them to deliver uninterrupted services to their customers.
Total cost optimization (TCO): Our licensing model was well within budget, with each pair of VA 1G licenses costing just $190/month.
Easy-to-manage: Our load balancers are clever, not complex, meaning they can be easily managed and updated by internal IT teams.
Secure: Because our products are powered by the fastest and best open source technologies, vulnerabilities are spotted and fixed much faster than proprietary alternatives.
Future-proofing: The customer was able to achieve maximum scalability, future-proofing their environment for expected growth.
The method: how our support team helped them transfer their HAProxy configuration file

Step 1: We had a probing conversation about goals, priorities, and risks.
They decided it would be a fairly simple transition to just define the services and health checks, and then configure from scratch using the Loadbalancer.org web interface. We offered to pre-configure configuration files, but the customer wanted to do this themselves, prefering to gain knowledge during the process to make sure they understood everything.
Step 2: They downloaded and configured the Loadbalancer.org appliances in parallel to the production Snapt units.
After downloading the trial, we talked them through the configuration of two appliances in a clustered configuration, with spare IP addresses used to enable testing in parallell to the production Snapt system. The application clusters were then configured and the health checks tested.
Step 3: They worked to test all the applications thoroughly.
They were careful to test all the applications thoroughly before attempting any production changes. Once both parties were confident, we insisted on one final step that they had not planned.
Step 4: We insisted they do a full disaster recovery on the Loadbalancer.org appliances — before going live.
Why would you go live with a critical production system without testing disaster recovery? The customer was deeply impressed by how much easier the recovery process was with the Loadbalancer.org appliances (compared to the fairly painful process with the old Snapt units!).
Step 5: Go live!
During a maintenance window, the Snapt units were disabled and the Floating IPs on the Loadbalancer.org units were activated, followed by a quick re-test, and (ta-dah!)...one very happy customer.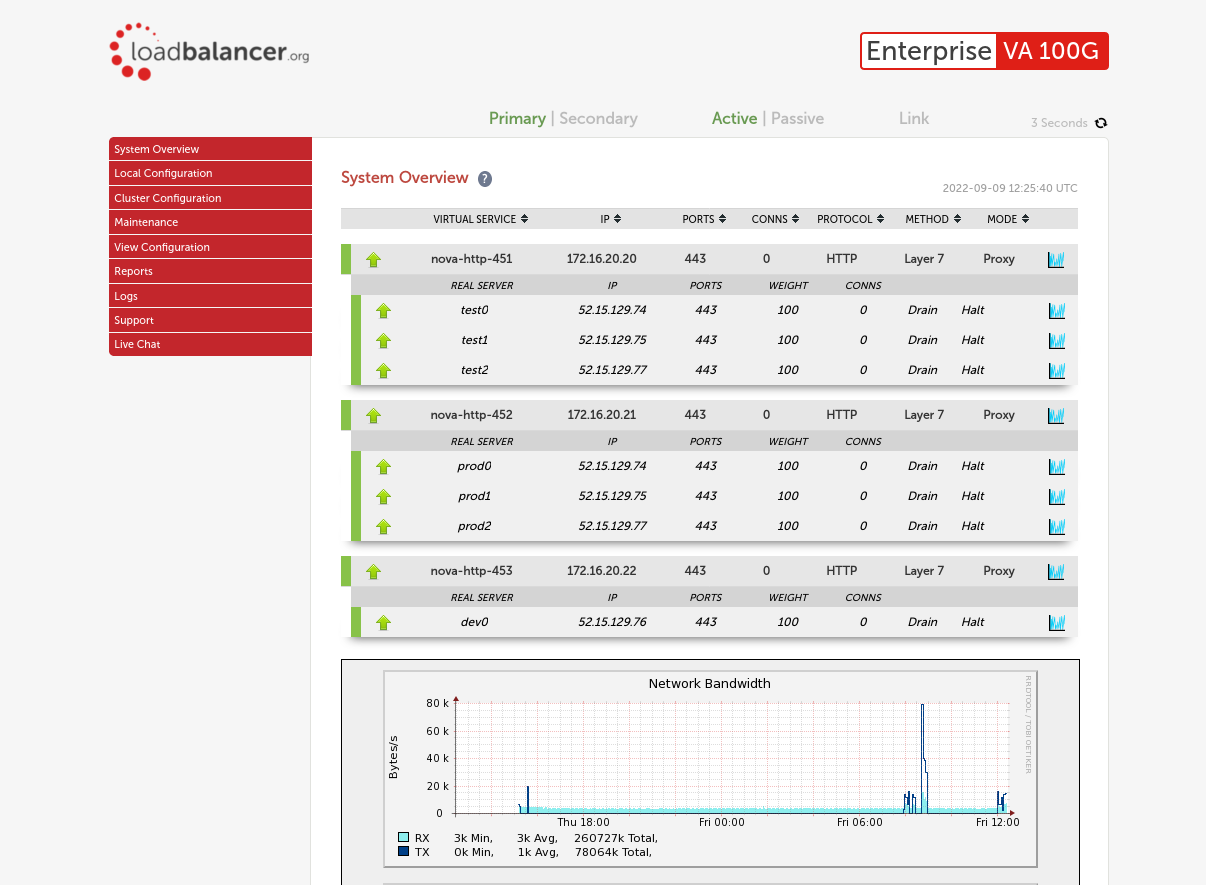 The vital statistics: the right ADC, for the right price
Our commercials...
We offered them an unbeatable price match guarantee, including buy one get one free on all licenses, and like-for-like product and feature compatibility.
Our clever, not complex, load balancers...
We are not beholden to any one open source platform. This allows us the flexibility to cherry-pick the best components of each open source technology and also from different technologies.  Furthermore, we can provide all the support services, documentation, and SLAs that you would expect of a proprietary solution. The end result is a clever, not complex, solution that's easy to set up and easy to use.
That's all well and good you might say, but...
What about MORE COMPLEX Snapt configurations?
Some customers do have more complicated configuration files, that need to be transfered 'as-is'. That's no problem and we support full manual configuration files. The process is to transfer the existing Snapt configuration files 'as is', and make a couple of simple changes. As an optional extra you can also configure the web interface to make sure it can interact with the manual configuration file without causing any damage.
The steps are as follows:
Step 1: Download and configure the Loadbalancer.org appliances in parallel to the production Snapt units.
The trial just needs to be configured with base IP address information.
Step 2: Download the HAProxy configuration from the Nova appliance
This can be done using:
cat /etc/nova/haproxy/adcs/http451.cfg

...which will show your HAProxy configuration as follows (example shown):
frontend nova-http-451
bind 0.0.0.0:443
maxconn 100000
http-request set-header X-Nova-SRC %[src]
http-request set-header X-Nova-Country %[src,map_ip(/etc/nova/rulesets/ip2country.map)]
option httplog
log 127.0.0.1:12346 local0
capture request header Host len 64
capture request header User-Agent len 200
capture response header Server len 20
capture response header Content-Type len 64
mode http
option forwardfor
option http-server-close
timeout http-request 15s
http-response set-header Server NOVA

default_backend int-be-http-451-test
backend int-be-http-451-test
mode http
option accept-invalid-http-response
balance roundrobin
server test0 52.15.129.74:443  weight 10 check rise 5 fall 3 inter 2000


Step 3: Upload the configuration file to the Enterprise VA Trial
Navigate to Cluster Configuration -->  Layer 7 - Manual Configuration (via the WebUI) and simply paste the HAProxy config in there.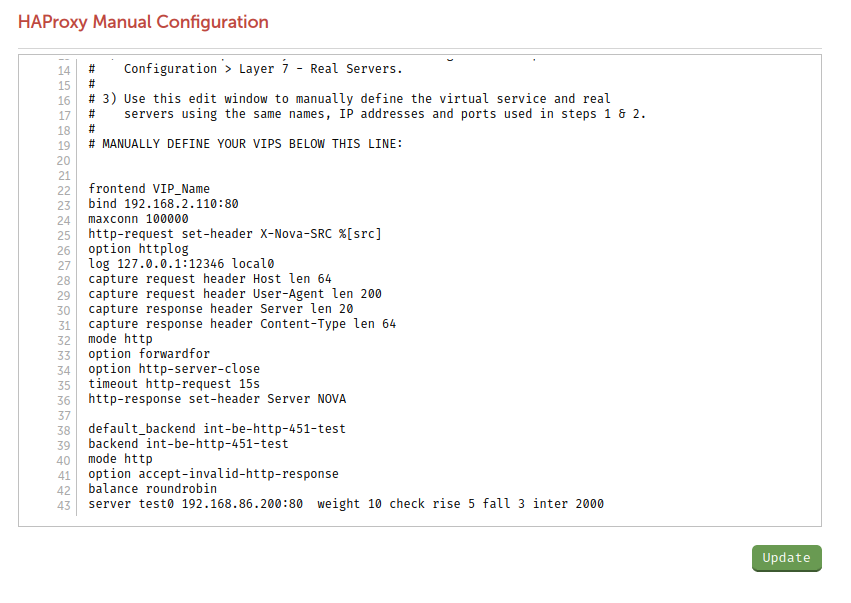 Note: when copying the configuration over to your Manual Configuration, replace...
bind 0.0.0.0:443 

...with your server IP address i.e. 192.168.110.111.
Using the WebUI menu option: Cluster Configuration > Layer 7 - Virtual Services create a Layer 7 VIP with the required Label (name), IP Address, and Port. At this point check the Manual Configuration checkbox e.g.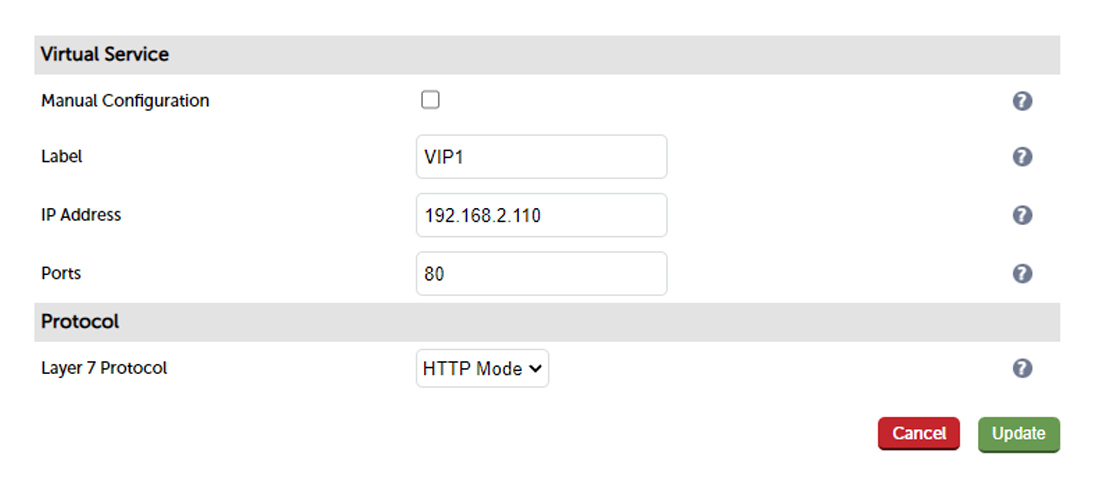 Using the WebUI menu option: Cluster Configuration > Floating IPs , add a floating IP for the new VIP, in this example 192.168.2.110 is added to match the IP address required:

Click Add Floating IP
Reload HAProxy and return to the main menu to review active virtual services:

And there you have it. Note, if any additional manual configuration is needed drop our team an email, or simply open a live chat with the WebUI and we will be more than happy to assist you. Alternatively, to discuss this case study in more detail, contact sales@loadbalancer.org for more info.
Share this post