Healthcare Technology Providers
How to design highly available enterprise imaging systems
Introduction
You're proud of the engineering quality behind your market leading medical imaging system. But now the load balancer underpinning your cardiology or radiology technology is becoming a problem: it is impacting your customers. As a product manager, you feel that you are losing control. But there's a solution.
Tailoring load balancers in the simplest possible way for your enterprise imaging systems is the key. Doing so makes the solution unbreakable. Here's how.
The challenge
The easiest solution is to recommend the most popular load balancers to your end-users. Because you're confident they will achieve the required high availability and scalability. You're also happy to provide clear instructions on how best to deploy them. However, these load balancers are so feature-rich that they add the unnecessary complexity end-users don't need. This increases security risks, chances of failures, and extended downtime for maintenance.
A tailored load balancer would be just the opposite. Read the blog
What makes a tailored approach so powerful?
We provide the highest quality load balancers for medical imaging solutions that can be tailored to your specific requirements, built to become a hidden component of your product, commercially viable for the long term. By aligning our development, commercial and support roadmaps to your future plans, you can be confident that you have a trusted partnership that will be tightly integrated to your development team.
Problems we solve
Fast time to value. Enhanced Performance. Proven path to long term success.
By designing simplified solutions tightly integrated with your medical imaging systems, you can ensure you're delivering exceptional experiences to your end-users.

Reduce security footprint
by removing excess functionality

Simplify operations
By controlling the frequency of updates through long term version support

Remove cost and complexity
By automating deployment and maintenance of hundreds of instances with a centralized management platform.

Avoid vendor lock-in
with licensing models tailored to your business needs

Get top notch support
through access to 24/7 global and tierless support for you and your end-users

Boost performance
power high availability and scalability of your technology
The tools you need
You've invested a lot in your enterprise imaging systems, so we're here to support your product innovation throughout the entire lifecycle. This is a glimpse of what our tailored load balancer can do for you.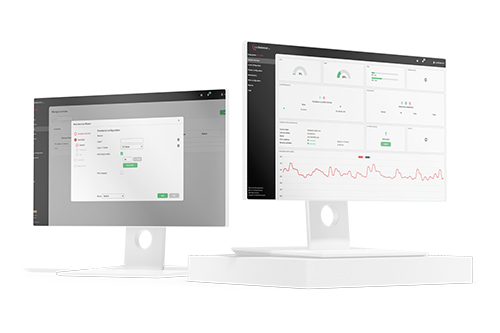 Deploy quickly – Automated application deployment with a click of a button.
Manage centrally – Simplify the maintenance and updates with a centralized management platform.
Maximize resiliency – With feature customization, addition or removal, versioning freeze, templating, plus security enhancements and fixes.
Scale infinitely – Centralized control of hundreds of instances deployed in any environment.
Customer stories where we've helped drive product success
Philips
We support Philips' PACS, mobility, and various additional medical imaging systems. Most of their customers require complex multi-site deployments without the use of GSLB. We developed a solution based on Layer 7 and SNAT to achieve the same result which was bundled into a standardized template for these multi-site scenarios. We also provide the flexibility they need around markets, territories and channels.
Fujifilm
Fujifilm medical imaging has always been strong on high-availability. But as a long term partner they asked us for help refactoring their core application for transition to the AWS cloud. We have assisted Fujifilm with this project by developing a specific Lambda code to achieve the desired outcome.
A simple, stable load balancer is vital for medical imaging systems, and that's what we get from Loadbalancer.org.
Service Delivery Manager, Fujifilm
Hologic
Working closely with the development team over several years to ensure complete integration, automation and deployment of highly-available Mammography imaging systems.
Leading Enterprise Imaging Vendor
Having gone through a cycle of F5 security vulnerabilities and end-of-life, it became too expensive to fix the problem. They engaged us to replace the entire estate of 300 F5's at their customers sites with integrated load balancing for their cardiology and radiology imaging solutions. Developing and integrating a tailored solution meant that the load balancer is invisible to the customer and included a specific feature development for both central and decentralized management to push updates to their end-users.
Comparing Loadbalancer.org to F5
Which provider fits your needs?
Other vendors may promise a streamlined approach. But without an integrated solution, management quickly becomes cumbersome, time consuming, and expensive.
| | | |
| --- | --- | --- |
| | Loadbalancer.org | F5 |
| Performance | Development of custom features and/or feature removal of unwanted modules for simplification | Off-the-shelf complex solution, provided as is |
| Deployment / Maintenance | Centralized management platform for automated deployments and maintenance of an unlimited number of instances | Qualified F5 consultants required for basic changes and updates |
| Pricing | Licensing flexibility for increased margins and revenue opportunities | Standard pricing models |
| Security | Lower security risks with feature removal, centralized updates, white labelling | Regular vulnerabilities to be dealt with onsite |
| Support | 24/7 global and tierless custom support frameworks of unmatched value | Standard support |
| Future planning | Alignment of development roadmap to support GTM strategies | End-of-life which can be announced at any point |
Ready to get started?
Let us show you how we can help improve your technology.
Our Loadbalancer.org experts can
Help develop your solution
Answer your technical questions
Discuss implementation options
Set up a trial in your environment
Call us to discuss your challenges
back to the top