Having just survived yet another boring trade show (IPExpo 2009) we have made a morale boosting decision to never do one again! (Well we might do Vegas for a laugh but thats a different story). I'm sure the other vendors out there dread the trade shows as well; and in the past they have almost been a compulsory part of being an IT vendor. However if you look at the costs of getting a stand and hotel and travel and lots of entrainment expenses it really doesn't stack up. We spent £20,000+ last year on trade shows with little to show for it but hang overs and sore feet. £20,000 is an awful lot of Google Ads! almost 3 times our current adwords budget...Anyway just to annoy the staff a description of Loadbalancer.org's show follows:
One of our illustrious members of staff had earned far too much money by shorting banks on the stock market so he was leaving for Hong Kong and we needed to double the event up as a leaving do. We all trudged up to London in Karen's 7 seater (she has one child!?) averaging 7 miles per gallon. Now being penny wise and pound foolish Karen had booked us into the Hotel Lily, which while very cheap was disgusting, dirty and down right dangerous. After thinking briefly about finding another Hotel, Jake had the brain wave that we could just get drunk and then it would be easy to sleep!
So several beers later James ended up with a dog (literally):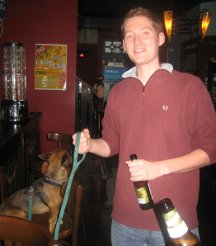 Why the owner thought he was trustworthy I don't know... So to cut a long story short, we did sleep briefly...and then on to the show!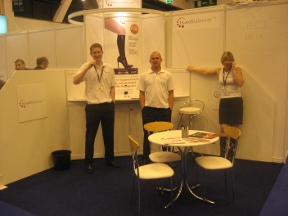 Yes I known we look a motley crew, but at least I managed to stay out of the photo! As expected the show was heavy going, existing customers were nice to chat to, most of the other vendors had a good sense of humour (Coyote didn't seem to know what humor was...).  After lunch we started struggling after way too many coffees.. But soon it was all over and the free beer and wine came out!
I managed to make the show organizer want to commit hari kari when I made my prediction "That all the vendors would be gone in 3 years as Google ads were far more cost effective...", just as the technical press has been destroyed by Google (shame.....did anyone mourn the loss?).
So more alcohol and a great Thai meal that cost more than our entire  hotel bill for 2 nights...a little more sleep...
And then the really hard day... I think a picture tells a thousand words: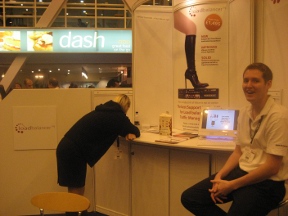 I manged to make it to the stand before the show opened...But the rest of the staff couldn't make it in for at least another hour...unsurprisingly the day did not go well and we couldn't even be bothered to fend off the vultures steeling USB sticks and demo CDs, so we decided to make them famous by taking photos of them!