If you've ever bought anything online, you've probably gone searching for business reviews. Your findings may have heavily influenced whether you followed through with your purchase. But does it actually make sense to trust a collection of random strangers' thoughts?
Happy customers
From a business perspective, customer reviews play an important role. According to recent research, 88% of consumers rely on reviews when it comes to making their online purchase decisions.
Our customers here at Loadbalancer.org can use several platforms to leave honest, unbiased reviews including Reviews.io, Gartner, IT Central Station, Capterra and Google. For the most part these are overwhelmingly positive. We have over six hundred reviews, and are currently averaging 4.89 out of five stars.
In my opinion this is quite an achievement. It proves that we, as a company, care about the products we develop and the customers we serve. Here's one example: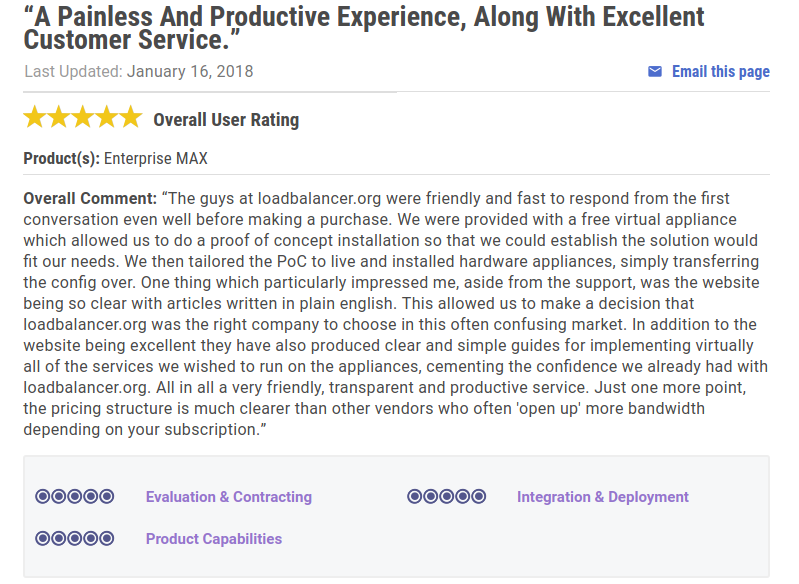 A review left on Gartner
On the rare occasion that we do receive a negative review, we use it as an opportunity to do better. After analysing the problem, informing the relevant departments and correcting any inaccuracies, we make sure to respond to the review promptly. In my time at Loadbalancer.org, we've never been afraid to admit to our mistakes and attempt to make things right with the customer. In fact, this is part of our company ethos!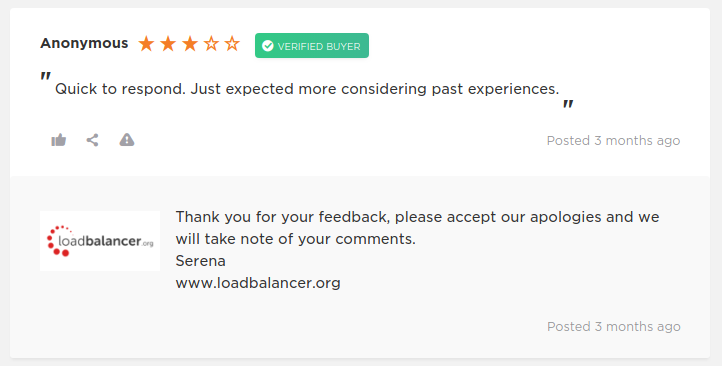 We're sorry!
Reviews are not just about star ratings. They're an often-wasted opportunity for the customer to share their overall experience. "It just works", or even worse, "Thanks", are pretty worthless comments. They don't offer the business any insight as to what they're doing right - or wrong.
Revenge via review
The issue of reliability is a crucial one. A number of platforms have few procedures in place to ensure the validity of reviews. This means you'll often find a load of irrelevant comments - or worse, that that the majority of reviews are positive but not genuine. Businesses can choose to exploit these platforms by using paid services to increase their overall star ratings. The BBC briefly looked in to this matter.
Here's an example from my own life. I recently purchased a game (SWG for those who care) from eBay which arrived at the office in terrible shape - so as anyone would, I left an appropriate (negative) review. However, the seller was not pleased and took it upon himself to find where I work and leave a review on our company Google profile: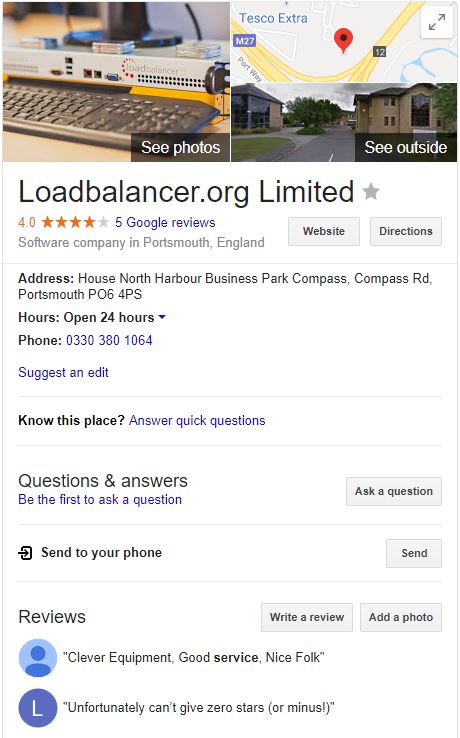 After doing some digging, I found that the same seller had also left a review for someone else (also an eBay buyer I assume) on their Google business profile. The sheer pettiness of this individual is pretty astonishing: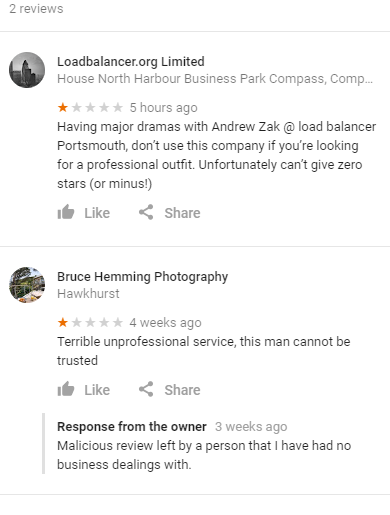 Google reviews left by eBay seller
Keeping it real
There are platforms which ensure that only valid and trusted reviews are taken into consideration.
Reviews.io, one of the platforms Loadbalancer.org uses, only lets verified real customers leave reviews. This filters out the trolls.

Gartner PeerInsights takes Reviews.io's approach, but also has one of their employees read each submitted review to ensure it meets their basic criteria. This ultimately means that each confirmed review has enough content and meaning to provide a trustworthy, fair overall company rating.
They also provide tools for both customers and businesses. For example, this company comparison tool: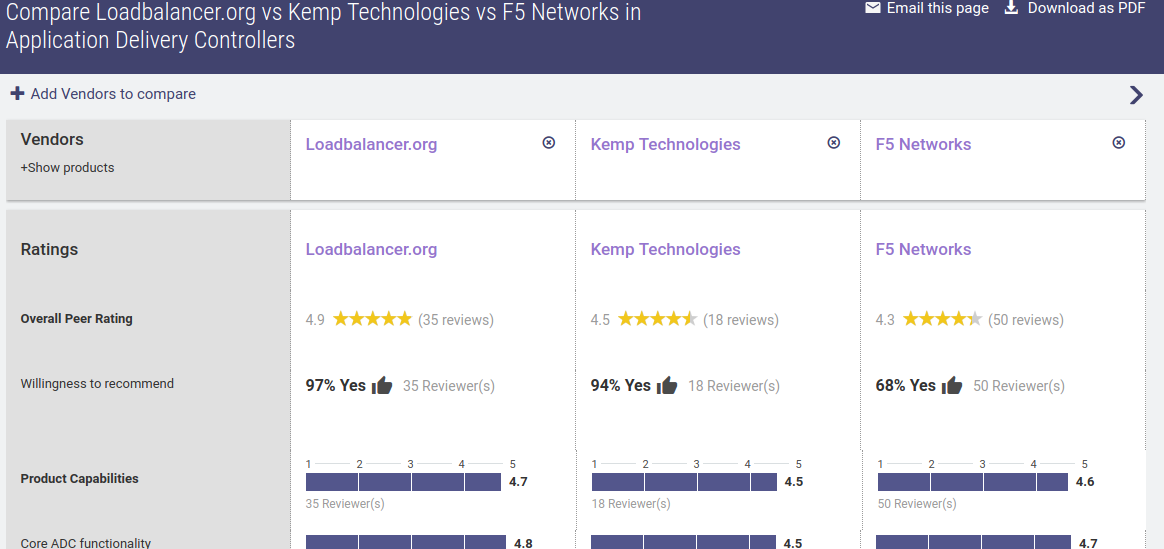 Beyond star ratings
Reviews play a significant role for both businesses and customers. However, as demonstrated by my eBay altercation, you shouldn't trust a business solely based on their five star rating. There are review platforms such as Reviews.io and Gartner that ensure valid, honest reviews, and so reveal the genuine face of a business.
At Loadbalancer.org we are proud of the products and services we provide. We always strive to do better by allowing our customers to share their honest opinions.
So can you trust online reviews? Yes - but remember to do your research and make an educated decision on what to believe in.
Share this post