Load balancing Microsoft Windows print servers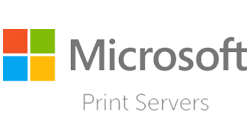 Useful resources
About Microsoft Windows print servers
Microsoft print servers allow client computers to print over a network. The server accepts print jobs from computers and sends these jobs to the appropriate printers, queuing them locally since work may arrive more quickly than the printer can actually handle. Ancillary functions include the ability to inspect the queue of jobs to be processed; the ability to reorder or delete waiting print jobs; and the ability to do various kinds of accounting, such as counting pages, which may involve reading data generated by the printer(s).
Here at Loadbalancer.org, we have over 16 years' experience in supporting both print vendors and their end-users. We're proud to be one of the few load balancer vendors to fully support load balancing Microsoft print servers.
Through our industry expertise we're able to provide print server redundancy and scalability, keeping print environments moving no matter what. Where print is integral to business, we help to protect companies' commercial assets.
Key benefits of load balancing
As print and document workflow specialists, Loadbalancer.org understands that these environments can be complex with multiple technologies and applications.
Load balancing Microsoft Windows print servers creates systems that are:
reliable and highly available
scalable
high-performing
As print specialists, we understand that print environments can be complex. with multiple technologies and applications. Loadbalancer.org brings these layers together to create systems that are reliable, highly available and high-performing.
deployment guide
guides
blogs