Load balancing OpenText RightFax

Useful resources
About OpenText RightFax
OpenText™ RightFax™ is a digital fax solution allowing users connected to a local area network (LAN) to send and receive paperless, digital faxes. The enterprise fax server software connects to onsite analog, VoIP or cloud to transmit the fax securely. It integrates with the enterprise applications that drive business processes to maximise productivity, reduce risk and decrease costs. 
Key benefits of load balancing
As document workflow specialists, Loadbalancer.org understands that these environments can be complex with multiple technologies and applications. By directing faxes to any available RightFax server, load balancing OpenText RightFax creates systems that are:
Reliable and highly available

Scalable

High-performing
How to load balance OpenText RightFax
To provide load balancing and HA for OpenText RightFax, the following VIPs are required: 
Client Access (HTTP)

Client Access (HTTPS)

Network File Storage (SMB/LPD)

Server Module Client Access
Deployment Concept: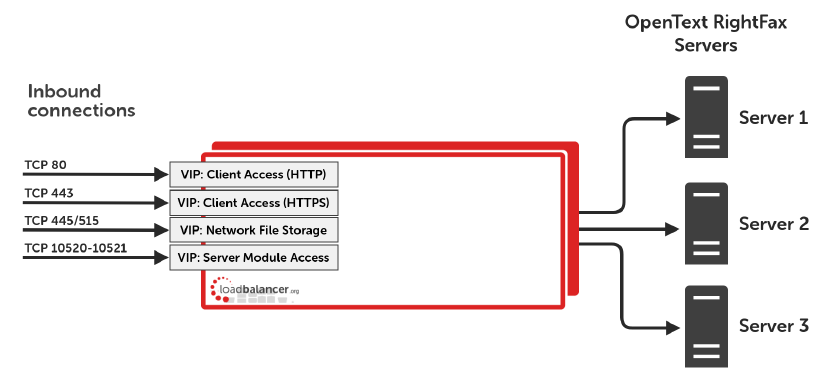 The load balancer can be deployed in 4 fundamental ways: Layer 4 DR mode, Layer 4 NAT mode, Layer 4 SNAT mode, and Layer 7 SNAT mode. For OpenText RightFax, using layer 4 DR mode is recommended. It is also possible to use layer 7 SNAT mode, however the performance of this set up is not as great as layer 4 DR mode.